Roll over image to zoom in
Click on image to zoom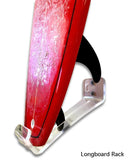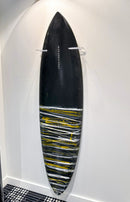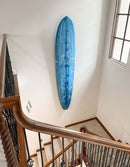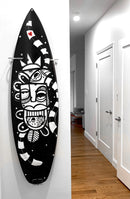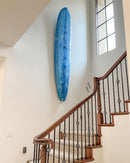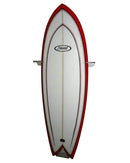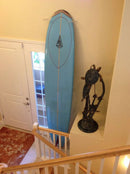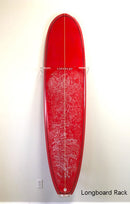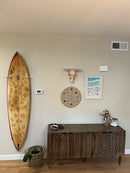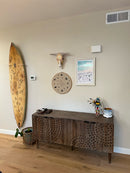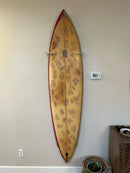 Description
Unsure About Which Mount is for You?:
We understand it can be difficult to decide between the Shortboard/Fish Mount and the Longboard Mount without getting your hands on them so here is a guide that can help paint a better picture about which mount is best for your needs. 
Shortboard / Fish Mount:
This rack will for the most part keep your board flush against the wall. 
The base-mount sits about 5.5" off the wall.  This is likely the rack for your needs if you plan on mounting a board without fins; or a board with fins installed but intend to mount the deck (top) of the surfboard facing the wall. 
Rated to hold up to 50 pounds.
While it may say shortboard/fish, this mount can also handle mid-lengths and smaller longboards as well.
Pin-tails, swallow tails, squash tails, round tails, or pretty much whatever template your board has on the bottom, this rack will hold it safely and securely.
Having fins on your surfboard isn't really an option if you want to display the deck of the board…sorry to all the timeless glass on fins out there 😣.  Check out the longboard rack if you plan on displaying your board with fins attached.



Longboard Mount:
This rack comes off the wall about 12 inches, and down at an angle.  
It's meant to store the board with fins installed, and facing the wall. 
Rated to hold longboards & other surfboards up to 60 pounds.
Displaying your shortboards is also an option with this wall mount.
Fins in your board ARE an option thanks to the angle the bottom mount has and the cut out through the center (see picture above/below of the red surfboard with the black fins.)
This slit or cut-through is meant to also accommodate much larger center-fins. 
Pin-tails, swallow tails, squash tails, round tails, or pretty much whatever template your board has on the bottom, this rack will hold it

 

safely and securely.
More about the Clear Vertical Wall Rack:
This vertical surfboard wall rack helps show off the board as a work of art, while also giving the 'floating' look, with no visible parts of the rack really being "shown", as it's entirely made of clear components.  
This flat-facing rack stores the surfboard in the vertical position. It can either showcase and display the (top) deck of the board without fins, or the bottom of the surfboard, with or without fins.   
This rack is often chosen by professionals, for use in high-end retail spaces or restaurants that want a bit of a beach aesthetic. 
This rack is great for trying to fill a void, or gap in the wall, especially in higher locations, such as over staircases. doorways, and other entryways.  
This rack is 100% USA made, in a US based facility. All mounting hardware & instructions are included.  We do recommend putting these into studs, but is not necessary if the drywall anchors are installed correctly.  
Questions or concerns?  Call us or email us: Someone will get right with you!
I'm looking for a SUP vertical rack for outside on the side of my house for one SUP. Will the acrylic vertical mount of yours work for that?

+ Show Answer

We don't have an acrylic wall rack that holds the SUP vertically.  However, we do have a version that holds SUP boards horizontally (or flat) with our Clear Surfboard or SUP Wall Rack | Flat | Trophy style. 

The version of this rack can be seen HERE.

If my long board doesn't have fins will the vertical rack still work? Says fins need to be in it!

+ Show Answer

You don't need the fin installed for that rack.  It just comes off the wall a bit more than the shortboard version to accommodate a larger fin.  

 

Some folks mounting boards without fins want more of a flush against the wall look so they end up going with the shortboard version of the rack to mount their (usually smaller) longboards,

as seen in this photo.

I want to mount a fish surfboard, no fins flush to the wall. Which rack should I go with?

+ Show Answer

If you want to mount a fish shape with no fins flush to the wall you actually have two options:

 

Vertically Mounted:

This rack comes with 3-pieces (sides arm and base) and all necessary mounting hardware. 

 

 

Horizontally Mounted:

This rack comes with 2-pieces and all necessary mounting hardware.

I have an older short board with 4 skegs. Would the bottom part of the rack be wide enough ?

+ Show Answer

If planning on mounting the board with the skegs / fins attached, and you plan for them to face the wall (deck-side out) I would recommend getting the longboard version of this rack. The longboard version provides enough space off the wall to accommodate the fins. 

If the fins are not attached  and/or you want a flush look of the board against the wall then the shortboard version is your best bet.  

The bases of both styles of the rack have enough width to support most boards, if mounted correctly.  
Beautifully formed…
These racks are aesthetically pleasing and elegant yet still sturdy and unobtrusive.
Just what we were looking for!
Delivery was quick and install was easy! Ordered a mount (2nd one for our company in the last couple months) to mount surfboards in a few of our store locations. The rack definitely elevated the look for displaying the surfboards vs a typical black floor standing rack.
Customer service was fantastic!
Payment & Security
Your payment information is processed securely. We do not store credit card details nor have access to your credit card information.