Roll over image to zoom in
Click on image to zoom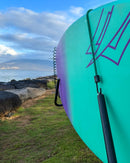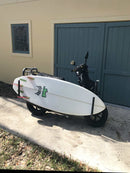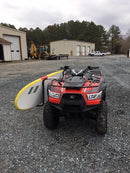 Description
This is our most versatile Moped / Motorbike rack.  It has the ability to safely transport Surfboards, Wakeboards, and Longboards.  It includes 2 separate arms (Dual-Mount System) which can be used to mount them together (for shortboards or wakeboards) or space them out across the bike to stabilize them better for longboards, or boards of a longer length.    They also use a stable quick-release system for removing the arms easily when not in use.  What's different about these racks is the quick-release attaches at the base of the mount avoiding the need to have any pipes hanging out getting in the way when not in use.  Also, changing these out only takes mere seconds. 
This mobile system is compatible with a variety of mopeds, motorcycles, and other motorized vehicles using the provided ultra-compatible mounting hardware. This rack mounts via versatile clamps that can mount on a variety of areas on the bike or vehicle.  3-sizes of mount adapters are included to mount to a variety of luggage rack tube sizes.  A luggage rack is usually recommended, but because of the rack's versatility, they're compatible with a large variety of mounting points on vehicles.  You can securely mount it to the frame, piping, or an existing rack.  This rack fits perfectly on the Honda Ruckus, but can easily fit onto a variety of other bikes too.  When you just want to go for a ride without the boards, the hooks easily come out, and lock back into place in a flash, using it's patented quick-release system.  
The piping is also covered in a high-quality rubber, helping to prevent dings, and includes holes in case you want to attach a bungie (sold separately) which keeps the board tied down when driving down winding or bumpee roads. 
Saving time and gas while riding eco-friendly is in style!  Having to drive around aimlessly trying to find parking when you get to the local beach break or reef is not. Get rock star parking every time! You'll be stoked on this rack, just as much as we are. Once you have one of these attached to your ride surf checks and finding parking at the beach will be so easy!
*It is recommended to mount the arms further apart (closer to the front and back of the vehicle) if you're planning on using boards over 10' for added stability. *
In addition, an optional SUP set of arms can be added to the purchase.  These bars provide a 6" gap for those thicker SUP boards, and can accommodate inflatable stand up paddle boards. Also, they can hold 2 surfboards (shortboards.)
The mounting pipes (sleeves) that actually mount up to the moped or luggage rack are 10" in length. 
Headed to costa and looking for solution to carry 2 boards on a bike. One long board and 1 7 foot. Would this support 2 boards if using the sup version with the bigger gap or would i rewuire 1 rack on either side. Also does wxhaist pipe heat damage these at all (melt)

+ Show Answer

Adding the optional SUP arms on this surfboard moped & motorcycle rack enables you to be able to carry 2 surfboards.
 
However, please take into consideration that the inside gap of the SUP arms is 6".  So depending on the thickness of those surfboards in question as well as each board's entry and exit rockers can largely play as factors.   

One way to judge compatibility is to align where you would install each mounting tube on the bike, then align these areas with where the estimated contact points of the boards are. 
Then measure the gap (top and bottom) of the boards while they're stacked to see if they would fit within that 6" limitation. 

For your alternative mounting approach: We have heard of customers using 2 racks installed - one on each side successfully, but can't recommend it personally as we've never tried.
There is also the increased safety concerns with being locked in and surrounded with two boards that should be taken into consideration, and factor where this setup is planned to be used. We've been to Costa Rica a couple of times and mostly it's pretty chill dirt roads that get you to the surf, but there are also heavily trafficked areas that should be of concern also.  

As for exhaust pipe heat damage we haven't heard of any issues pertaining to these, but we do recommend using your best judgement and also try to install the surf rack on the opposite side of the exhaust pipe if possible.

I want something like this to carry a tall beach chair. Once you have the mount on your seat post can you easily remove and reconnect the hooks so they are only on when needed. I don't want to have to remove the seat post connector each time.

+ Show Answer

The hooks that are used as carriers on this rack easily remove with a simple pushpin locking mechanism.  So when you're ready to use the rack for storage the hooks simply slide in and lock within seconds, and just as easily removed when not in use.    When the hooks are uninstalled there is very little hanging off the bike.  There will be no need to install/remove the seat post connector each time. 

Hey Guys, Do I need 2 at $119 for one board or is that the price for one complete rack for a board? Thanks, Garry

+ Show Answer

The purchase price of this rack is for a full set that will hold 1 surfboard. 

I have a Badfish IRS (inflatable river surfer) it is 5" thick and 33" wide, will this mount work? Riding a Yamaha Zuma 125 for shuttles to the river.

+ Show Answer

For that board I would go with the SUP version of the rack instead:

https://www.epicsurfracks.com/Bike/Bike-Mopeds-Motorcycle/SUP-MOPED-RACK

This rack has larger arms that would be more suitable for the thicker board you want to use.   

As for mounting options as long as you have a luggage rack (preferably front & rear) you should be good to go.  Let us know if you have any other questions

Can you please send me information and pictures on the attachment points? I would like to order this ASAP but need to know if they will fit on my motorcycle first. Thank you.

+ Show Answer

There is a picture of them in the photo catalog at the top of the page Here.

They are traditional C-clamps that lock around any round tube.  

Hi, I have a Yamaha SR 400 with a small rack on the back. There's no rack on the front. Would the dual-mount rack work on that bike? I mean, if I can't find a place to put it on the front I could just mount both bars to the rear rack, right? Or would it be better to go for the single-mount moped rack? I'll be transporting boards of 6'6" up to about 7'6" but it's possible I'll throw a 9' log on there once in a while.

+ Show Answer

Great question!  

The dual-mount version of that Surfboard Moped rack should work great for that rear rack, and in most cases will work better than the single-mount version for what you're using it for, as you can spread the mount points out further across the rack. 

The more you can get the mount points spread out the more stable the transported board will be.  This is especially true for that 7'6" and more so for the 9' log.  The front rack isn't necessarily required but is obviously a plus when transporting the bigger boards.  

Hey! I'm about to buy a 2023 Honda Navi. I want to carry my 9' Wave Storm MAXX SSR (108"L x 29.6" W x 4.4" Thick) Question: Do you sell a Rack that fits a 2023 Honda Navi and the Wave Storm Blade I have? Does the Rack come with instructions? Is there Tech Support number to call? Regards TJ

+ Show Answer

We should have a rack that fits that bike, however mounting might be tricky depending on what luggage rack comes on your specific bike.  Ideally, you'll want a front luggage rack mounted as well (to spread out that 9 foot board as much as possible, providing the most stability)

If you could send some pics of your actual bike when you get it, and potential mount-points I can give you a more definitive answer.  A lot of times customers have to find an aftermarket luggage rack for the front, when there is no OEM version available. 

As far as instruction, yes all instructions will be provided with each rack kit.
great setup
the moped rack is great. I put it on a cargo ebike and it took some figuring out.. The hardware provided was fantastic and I was able to make it work. Its a very customizable setup and should work for almost all setups.
Excellent design for motorcycles
I wanted a way to transport my board to the coast (2+ hours) so I can do some surfing while I motorcycle camp. I installed the racks on my 2013 BMW F800GS. After a few test rides, I am stoked! Had my 9'6" longboard on them yesterday, speeds up to 70-75 MPH on a windy day. No issues or problems at all. Looking forward to my next weekend off and hitting the Northwest coast!
Payment & Security
Your payment information is processed securely. We do not store credit card details nor have access to your credit card information.