Roll over image to zoom in
Click on image to zoom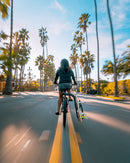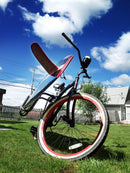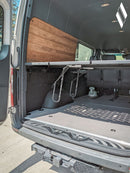 Description
These surf racks represent quality. The Dual-Point mounted Bike Rack is for Surfboards and SUP boards up to 20 pounds.  This top of the line mobile storage-system is perfect for any beach cruiser, e-bike, or mountain bike, getting you & your board to the beach in style, and even makes the need to find parking during the summer months a non-issue. 
The durable aluminum hooks retract on & off with a simple yet effective clip-system.  Perfect if you plan on going for a cruise, but don't need the board.  When you're ready to go for a surf the rubber-coated hooks simply slide in and lock into place.  This rubber is high-quality stuff, helping prevent any unnecessary dings to the glass of the surfboard, and also provides traction so it doesn't slide around.  The top of the hooks have bungee loops, that when using a bungee (sold separately) keep your board snug in the rack, locking it into place.   From our own testing, we know this feature provides peace of mind.  These important bungees kept our boards locked in when hitting bumps in the road, or need to make a sudden stop. 
With the optional upgrade to the SUP Arms, you can even carry a SUP or even a pair of surfboards. The inside gap of the SUP arms is 6", so inflatable paddle boards can fit with a small squeeze.  
Save gas, burn fat, strengthen your legs for surfing, avoid traffic & parking issues, and you'll be feeling, looking & surfing better.  You'll be stoked on this rack just like we are!
I'd like to use this to carry a stand up paddleboard. 6" thick. Will this rack accomodate that thickness?

+ Show Answer

If the option for "Add SUP arms" is selected on the page then the rack will include an additional set of arms which are designed for Stand Up Paddleboards.  

The inner dimension of these SUP arms is 6" wide so you should be good to go with that board. 

I want something like this to carry a tall beach chair. Once you have the mount on your seat post can you easily remove and reconnect the hooks so they are only on when needed. I don't want to have to remove the seat post connector each time.

+ Show Answer

The hooks that are used as carriers on this rack easily remove with a simple pushpin locking mechanism.  So when you're ready to use the rack for storage the hooks simply slide in and lock within seconds, and just as easily removed when not in use.    When the hooks are uninstalled there is very little hanging off the bike.  There will be no need to install/remove the seat post connector each time. 

Are your prices in US$ or AUD$

+ Show Answer

All of our prices are in US $ Dollars.

Do you have anything that would work for carrying a longboard on a large motorcycly like a Harley?

+ Show Answer

Hey, do you have a European distributor? I'm about to travel to Spain/Portugal/France and will be looking to buy a bike, on which I'd like to be able to carry a board.

+ Show Answer

We don't currently have a European distributor.  However, we can ship these pretty much anywhere internationally.  Please email info@epicsurfracks.com to obtain a shipping quote.
Christmas Gift
My grandson researched this product and his best friend and him asked both sets of grandparents to get this as their Christmas gift. They surf all summer at the Jersey shore and need the bike rack to go to other surfing beaches. I know he will love it.
fantastic
Easy ride with my 9'6" long board 3 miles to and from the beach
Epic surf racks are EPIC !!!!
Writing this review for my daughter. Purchased this for her and she said it was super easy for her to install and works great on her 26" beach cruiser. Her longboard fits great and it is easy to maneuver from her home to the beach (1.25 miles). I would definitely purchase again and highly recommend this product. The quality of materials used, ease to install and customer service quick turn around to answer a few questions I had prior to purchase were the 3 main drivers for my 5 star review. Best in class organization.
Payment & Security
Your payment information is processed securely. We do not store credit card details nor have access to your credit card information.