Roll over image to zoom in
Click on image to zoom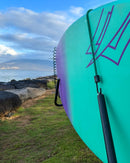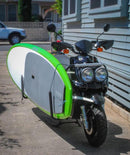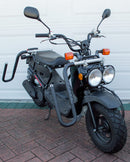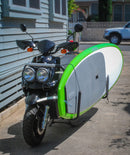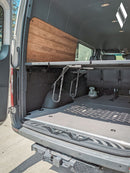 Description
This is our most versatile Moped / Motorbike rack.  It has the ability to safely transport Surfboards, Wakeboards, and Longboards, and also Larger SUP Stand Up Paddleboards.  It includes 2 sets of arms (one for bigger boards, one for smaller - which have roughly 4" and 6" gaps respectively where the boards sit.)  that use a stable quick release system for swapping out or removing.  Changing these out takes mere seconds and can be mounted on a scooter, moped, motorcycle, or even quad.  Once you have one of these attached to your ride surf checks and finding parking at the beach will be so easy!
This mobile system is compatible with a variety of mopeds, motorcycles, and other motorized vehicles using it's ultra-compatible mounting hardware.  This rack mounts via versatile clamps that can mount on a variety of areas on the bike.  A luggage rack is usually recommended, but because of the rack's versatility, they're compatible with a large variety of bikes.   You can securely mount it to the frame, piping, or an existing rack on your vehicle.  This rack fits perfectly on the Honda Ruckus, but can easily fit onto a variety of other bikes too.  When you just want to go for a ride without the boards, the hooks easily come out, and lock back into place in a flash, using it's patented quick-release system.  
They're also covered in a high-quality rubber, helping to prevent dings, and include holes in case you want to attach a bungie (sold separately) which keeps the board locked down when driving down winding or bumpee roads. 
Saving time and gas while riding eco-friendly is in style!  Having to find parking when you get to the local beach break or reef is not.  Get rock star parking every time! You'll be stoked on this rack, just as much as we are.
*It is recommended to mount the arms further apart (closer to the front and back of the vehicle) if you're planning on using boards over 10' for added stability. *
The mounting pipes (sleeves) that actually mount up to the moped or luggage rack are 10" in length.
Is there a way I can carry two 8" boards somehow with this racks? not sure if it is possible to attach two, one on each side, maybe not super safe though

+ Show Answer


One of our customers said he did something similar with our single-mount rack shown here, but using 2 shortboards. 

However, I'm not sure how well it would work if it would be used with an SUP or Longboard on each side.
Safety might become an issue with surrounding traffic, and the ability to maneuver effectively.  He was on an island where people drive slow, but said it was fine for the shortboards he was using at the time, as well as the short distance being traveled. 

Best bet would be to check with your local laws and regulations surrounding this.

Will this mount on a zuma 50fx - the one with a single headlight . As well as the F double headlight. I actually have both versions.

+ Show Answer

In order to properly transport an SUP board via motorbike it is recommended that you have both a front and rear luggage rack on the bike of choice.  Having a front and rear luggage rack will help spread out the attachment points to these larger watercraft, providing a more stable and safer solution to and from your adventure destination. 

Since the options for luggage racks can vary between the years of every make and model it's hard to give a direct answer beyond the above statement.   If you send some photos over to info@epicsurfracks.com we'd be happy to help you out further though!

I want something like this to carry a tall beach chair. Once you have the mount on your seat post can you easily remove and reconnect the hooks so they are only on when needed. I don't want to have to remove the seat post connector each time.

+ Show Answer

The hooks that are used as carriers on this rack easily remove with a simple pushpin locking mechanism.  So when you're ready to use the rack for storage the hooks simply slide in and lock within seconds, and just as easily removed when not in use.    When the hooks are uninstalled there is very little hanging off the bike.  There will be no need to install/remove the seat post connector each time. 

I have a 2001 Honda rx650r and a 6'3" short board and a 9'4"long board will this rack fit my bike and carry both boards? Should I get this rack over the single mount back luggage rack?

+ Show Answer

This Surfboard/SUP Moped Rack has the capacity to hold both shortboards & longboards, and also includes an option to hold SUPs.  Because that longboard is 9'4" I'd recommend going with this over the single-mount version as it spreads the weight of the board out, and makes it more stable while riding.  

 

If you're not planning on transporting a SUP board we have a more cost-friendly solution of this same rack - Just the Shortboard/Longboard version (without the SUP attachment)

 

As for transporting both boards at the same time, we can't recommend it, as it wasn't really designed for this.

 

Hope this helps!  Let us know if you have any other questions!!
These racks fit two shortboards perfectly. They seem strong and secure, let's see how they do after 1000 miles in Baja!
Payment & Security
Your payment information is processed securely. We do not store credit card details nor have access to your credit card information.