Roll over image to zoom in
Click on image to zoom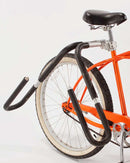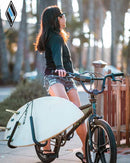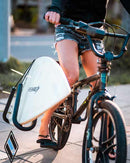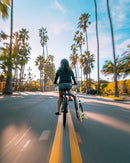 Description
This surfboard bike rack is top of the line, when it comes to transporting your boards to the beach, on a bicycle. This rack is great for Surfboard up to 8', it can also hold wakeboards, snowboards, or even bodyboards.  Great for biking to the beach when going for a surf, and prevents forfeiting control of your bike, because one arm is wrapped around your board.  This rack allows both hands on the handlebars. It's not only stylish but safe. 
The high-quality aluminum hook system is not only secure but also comes off in a flash. If you want to go for a surf the light-weight aluminum hooks easily slide in and are locked into place.  These strong aluminum hooks have a great rubber coating all the way around helping to prevent any dings to your board.  This coating also provides traction, so you know your board won't slide away if coming to a sudden stop  These hooks also come with bungee loops (bungee sold separately) that keeps the board locked in & snug to the rack.   This feature prevents the board from falling out if you hit any bumps along the way.  
This mobile storage system is perfect for any beach cruiser or mountain bike, and several e-bikes, making the need to find parking during the summer months a non-issue. 
Save gas, burn fat, strengthen your legs for surfing; and then you're feeling, looking, and surfing better.  So what's holding you back from being eco-friendly? Get your bike a surf rack, and we're pretty sure you won't regret it.  Save from having to find parking, and get that much-needed warm-up, and cool down after your surf session.
I want something like this to carry a tall beach chair. Once you have the mount on your seat post can you easily remove and reconnect the hooks so they are only on when needed. I don't want to have to remove the seat post connector each time.

+ Show Answer

The hooks that are used as carriers on this rack easily remove with a simple pushpin locking mechanism.  So when you're ready to use the rack for storage the hooks simply slide in and lock within seconds, and just as easily removed when not in use.    When the hooks are uninstalled there is very little hanging off the bike.  There will be no need to install/remove the seat post connector each time. 

Are your prices in US$ or AUD$

+ Show Answer

All of our prices are in US $ Dollars.

Do you have anything that would work for carrying a longboard on a large motorcycly like a Harley?

+ Show Answer

Hey, do you have a European distributor? I'm about to travel to Spain/Portugal/France and will be looking to buy a bike, on which I'd like to be able to carry a board.

+ Show Answer

We don't currently have a European distributor.  However, we can ship these pretty much anywhere internationally.  Please email info@epicsurfracks.com to obtain a shipping quote.

How large is the shipping box? I want to get this for a Christmas gift for my daughter who will be home in KS, but goes to school in FL. I'm wondering if this item will easily fit into her luggage when she heads back to school in January. If she were to just take the bars back in her suitcase, what are their dimensions?

+ Show Answer

The shipping box should easily fit in most luggage, as it sits ~18" x 12" x 3".  However, taking it out of the box will make things much easier as all the pieces and hardware are broken down, to much smaller dimensions, and could easily fit into a small backpack, with likely room to spare.
Smooth ride with an 8 ft Wavestorm!
As advertised and easy to use, we have ditched the car and now riding high with our surfboard bike racks. Wasn't sure we could find one that held an 8 foot board securely but it's excellent!
Just put them on
Just put them on, everything worked out awesome! Thanks again!
Good so far, bought it for an 8 mile ride to the beach in LA, carries a bodyboard and fins well. I can even attach my panniers no problem while carrying the board.
Payment & Security
Your payment information is processed securely. We do not store credit card details nor have access to your credit card information.