Roll over image to zoom in
Click on image to zoom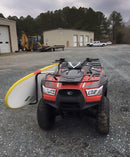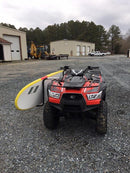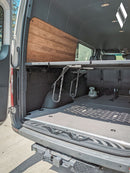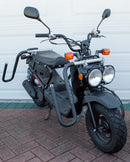 Description
Our Surfboard & SUP rack for ATVs and Quads has the ability to conveniently & safely transport multiple watercraft.  You can rack up to 2 Surfboards, Wakeboards, or Longboards, and also transport a single Stand Up Paddleboard.  It includes 2 separate mount points (Dual-Mount System) which can be used to mount them together (for shortboards or wakeboards) or space them out across the vehicle to stabilize them better for longboards, or boards of a longer length.    They also use a stable quick-release system for removing the arms easily when not in use.  What's different about these racks is the quick-release attaches at the base of the mount avoiding the need to have any pipes hanging out getting in the way when not in use.  Also, changing these out only takes mere seconds. 
This mobile system is compatible with a variety of luggage racks often found on ATVs, Quads, and other motorized vehicles using the provided ultra-compatible mounting hardware. This rack mounts via versatile clamps that can mount on a variety of areas on the bike or vehicle.  3-sizes of mount adapters are included to mount to a variety of luggage rack tube sizes.  A luggage rack is usually recommended, but because of the rack's versatility, they're compatible with a large variety of mounting points on vehicles.  When you just want to go for a ride without the boards, the hooks easily come out, and lock back into place in a flash, using it's patented quick-release system.  
The piping is also covered in a high-quality rubber, helping to prevent dings, and includes holes in case you want to attach a bungie (sold separately) which keeps the board tied down when driving down winding or bumpee roads. 
Saving time and gas while riding eco-friendly is in style!  You'll be stoked on this rack, just as much as we are. Once you have one of these attached to your ride surf checks and finding parking at the beach will be so easy!
*It is recommended to mount the arms further apart (closer to the front and back of the vehicle) if you're planning on using boards over 10' for added stability. *
In addition, an optional SUP set of arms can be added to the purchase.  These bars provide a 6" gap for those thicker SUP boards, and can accommodate inflatable stand up paddle boards. Also, they can hold 2 surfboards (shortboards.)
The mounting pipes (sleeves) that actually mount up to the ATV/Quad or luggage rack are 10" in length. 
What do these attach to on an X2 Polaris quad?

+ Show Answer

These surf racks are designed to bolt up seamlessly to the OEM or after market luggage racks often found on most quads/ATVs.  As for the Polaris you mentioned I see there are a few different options (particularly on the Sportsman) which would require you to find a luggage rack, or something similar.  Otherwise, some of our customers have successfully bolted it up to the subframe or chassis.  

Our surf rack comes with 3 different sized C-clamps to fit a variety of different round tube mount-points. See the "Description" area on this page for more details about the available sizing.
Quick service and understanding
Impressed by their quick customer service when I had an issue and understanding when I made a mistake. Can't ask for more than that!
Payment & Security
Your payment information is processed securely. We do not store credit card details nor have access to your credit card information.