Roll over image to zoom in
Click on image to zoom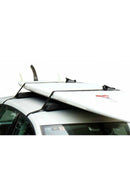 Description
SUP Rack - Soft Rack for Stand Up Paddle Boards.  Holds up to 2 SUP boards, or 2 Longboards
Quick and easy to put on, and even easier to take off. Stronger and larger than standard soft car roof racks to handle the weight and size of a stand up paddleboard SUP.  Have a small car but want to SUP?  These racks are your answer.  Simple installls in minutes, and can be taken off just as quick; perfect for saving valuable fuel-economy while the rack is not in use!  Perfect for Baja Trips, or weekend getaways.  
The strap system and padding is UV-treated so you know it will stand up to the test of the beating sun and elements of the outdoors. The neoprene-protected cam buckles keep everything cinched down tight so you know your gear won't go anywhere, and also provides protection against scratching the paint or dinging / denting your boards!
This rack does NOT require an already existing surf rack.  Everything is included to get you and your gear safely to the beach.
Features Include:
A rust-proof cam buckle that includes a Neoprene cover which helps protect your car your boards.
UV Protected webbing - to hold up to the elements.
Aerodynamic Raised Pads- will help keep zippers and such from scratching the roof
Easily cleanable top - will prevent wax from caking
Reusable storage bag is included, which is super convenient when not in use.
Please Note:
If your board extends more than 3ft beyond the SUP Rack Pads they need to be secured with an additional strap or rope towards the front bumper (to a tie-down hitch.) This is to avoid excessive wind force.  It's better to have more of the board off the back of the rack, and less in the front. 
**Image for reference - actual product and packaging may slightly vary.  Functionality will remain the same**
Will this fit a 2015 Genesis 4 door?

+ Show Answer

This SUP rack works with most 4-door vehicles attached to the roof, so yes it should likely work well for your Genesis.



Regardless of the vehicle we always recommend driving cautiously with a board(s) mounted on the roof, and to pay close attention to the weather (I.e wind) as it can potentially affect driving with the mounted boards.  This goes for any vehicle rack, not just ours.  Hopefully this help 😃

Would you recommend this for inflatable SUPS? Is so, would they work for 2?

+ Show Answer

This automotive rack should work for up to 2 Stand Up Paddle boards, this includes inflatable SUP boards.



The convenience of this rack allows you to keep the boards inflated while safely and securely transporting them without having to inflate/deflate the boards every paddle session.

how long are the wrap straps? will this fit around a full size truck? I want them on the roof not in the bed.

+ Show Answer

It should be plenty long enough to fit around the roof of a full-size truck.  We've used them on a mid-size SUV and they have lots of extra slack to work with.  

I have a Toyota Highlander will these racks fit????

+ Show Answer

These racks are universal, so they should work perfectly fine on your Toyota Highlander.  

Are your prices in US$ or AUD$

+ Show Answer

All of our prices are in US $ Dollars.
Good value, works, harmonic vibration is a problem
I have used it on a Honda Accord to carry my paddleboard on a few trips, traveling up to 45 mph. It is secure and does not seem to damage the board or the car. The straps vibrate harmonically as my speed increases and despite tightening, putting twists in the straps and securing the loose ends in different ways, it is still a problem. The risk with harmonics is that the straps will fatigue faster.
Great rack. Super easy to take on or off. I would recommend it to anyone who isn't trying to modify their cars or SUV's to have a special expensive rack. Best part, made in the USA and shipping out of San Diego so it was literally like next day.
I would have given 5 stars however after returning from surfing. I left the racks on and a rain storm hit before I could remove them. The strap prevented the window seal from blocking out the rain. I will remove the racks after every surf. Other than that they held my long board and sup very secure. Well made sturdy and simple to use. I would recommend these to anyone that needs gutterless racks.
Payment & Security
Your payment information is processed securely. We do not store credit card details nor have access to your credit card information.