Roll over image to zoom in
Click on image to zoom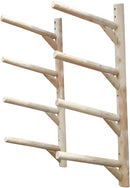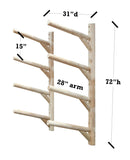 Description
This multi-purpose log wall rack is great for organizing a variety of watercraft in any yard or garage! Each level can store 100 lbs each, making it great for Kayaks, SUP's, or Canoes. The 100% USA made rack has 4 total levels so it can seamlessly support an entire family's worth of gear. 
The 4 spacious levels has plenty of room for Kayaks, Canoes, Stand Up Paddle Boards, Surfboards, Paddles, and Dive & Fishing gear. The levels can also be added or removed at your leisure providing a greater amount of customization if needed down the road. 
The materials are really what set this rack apart, as it is made out Northern Michigan White Cedar. This lumber is one of the only known species to have natural oils that make it insect and decay resistant. To totally nerd out here: The cell structure is actually very similar to cork. This cork-like feature on top of the natural oils provides added protection against mold and mildew that can often come with keeping lumber outside in the elements. Due to its species' slow growth it has a characteristic of tight growth rings that prevent twisting, warping, or shrinking. There's no better choice for outdoor use than when it comes to this species of wood.
However, just because this rack does really well in the outdoors it can still be mounted within the home, garage, or storage unit.  All necessary mounting hardware is included!
Not only is the log rack strong but it looks great and is customizable! You can choose from three different finish options to ensure the best look for your setup. You have the options of a beautiful dark canyon brown, a timeless natural finish, or sanded finish (make it a DIY project).
Product Dimensions:
 4 Levels:
Supports 100 lbs per level
28" Arm Length
31" Total Depth
72" Vertical Height
15" Between Levels
5.5" Wide log
How heavy is the rack? I need to mount it to a clapboard exterior, so I believe I'm going into plywood, probably 1/2". I'm wondering if in fact the rack will be secure bolted to the plywood, or if maybe it's too heavy.

+ Show Answer

The rack itself is ~50-60 lbs.  We highly recommend bolting this up only directly to studs in the wall, for maximum support.  To be honest, I wouldn't put any wall rack (regardless of weight) into only plywood, as it likely could blow out, and thus not be safe for hanging items, especially heavy kayaks and SUP boards.  

Alternatively, we have a freestanding version of this rack, that will provide a more versatile and safe storage solution. 
It can be seen here: 4 Kayak or SUP Log Rack | Outdoor-Friendly
Payment & Security
Your payment information is processed securely. We do not store credit card details nor have access to your credit card information.