Roll over image to zoom in
Click on image to zoom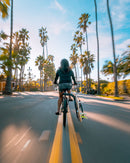 Description
This rack represents quality. The SUP Bike rack is a premium transportation system with options to hold both Stand Up Paddleboards, Longboards, Fish and even a couple of shortboards!  They easily mount to almost any bike, so you can definitely equip your beach cruiser, mountain bike, or even some electric bikes and get you & your board(s) to the beach in style.  With this rack, the need to find parking is out of the equation.  No more beach traffic! 
This rack comes with both hooks for Stand Up Paddle boards (having a 6" gap for the board to fit in) as well as smaller hooks used for Longboards & Shortboards (with a roughly 4" gap.)  When not in use the durable aluminum hooks retract and remove with the well-engineered quick-release system.  Perfect if you plan on going for a cruise, and don't need the board.  When you're ready to go for a paddle or surf the rubber-coated hooks simply slide in and lock into place.  Around the hooks is a durable and protective rubber which helps keep the board in place, as well as help prevent dings along the journey to the beach or lake. The top of the hooks has bungee loops, that when using a bungee (sold separately) keep your board snug in the rack, locking it into place.  Most any bungee from the hardware store will work.   From our own testing, we know this feature provides peace of mind.  These important bungees kept our boards locked in when hitting bumps in the road, or need to make a sudden stop.  
Save gas, burn fat, strengthen your legs for surfing, avoid traffic & parking issues, and you'll be feeling, looking & surfing better.  You'll be stoked on this rack just like we are!
As a plus this rack comes with 2 sets of attachment arms.  One for single Surfboards, Wakeboards, and Kite boards.  The other set of arms can be used for SUP boards, or even to hold 2 surfboards at once!
I want something like this to carry a tall beach chair. Once you have the mount on your seat post can you easily remove and reconnect the hooks so they are only on when needed. I don't want to have to remove the seat post connector each time.

+ Show Answer

The hooks that are used as carriers on this rack easily remove with a simple pushpin locking mechanism.  So when you're ready to use the rack for storage the hooks simply slide in and lock within seconds, and just as easily removed when not in use.    When the hooks are uninstalled there is very little hanging off the bike.  There will be no need to install/remove the seat post connector each time. 

Able to carry a 33 pound SUP?

+ Show Answer

The bars on this rack are rated to hold boards up to about 25lbs.  Heavier than this will be more challenging to ride with, and exceeds the bar's load capacity.
I've had several sets of these, best racks on the market.
Sup Rack Review
Set up this set up to carry my wing foil board and I have ridden more than 20 miles already. Worked great, very good quality and simple to instal.
Amazing product - works exactly right!
My boyfriend and I got these for our boards and couldn't be happier. They fit perfectly and the ride on the bikes is smooth.
Payment & Security
Your payment information is processed securely. We do not store credit card details nor have access to your credit card information.