Roll over image to zoom in
Click on image to zoom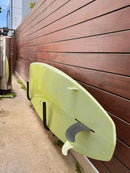 Description
This wall mounted SUP / Surfboard cradle rack is built from durable and lightweight aluminum.    Whether it's in the garage, under the deck, in a shed, even inside the home or office you'll know your boards are safe & out of the way.  Neoprene foam is on all the most important areas to help protect against dings while the board(s) are in storage, and when they're being placed and taken out of the rack.  Included are little hooks for a paddle, so your full Stand Up Paddle board setup will stay organized together.
The rack keeps the board pretty flush against the wall, which is helpful as these boards are so big they really take up a lot of room. The SUP Wall Cradle provides frustration-free storage, and gets those larger boards up out of the way.  
All mounting hardware is included.
Is the cradle one piece, or two?

+ Show Answer

This SUP Wall Cradle Rack is one solid piece of aluminum covered in foam.   Each rack purchased comes with a pair to hold each side of your board, hooks to hold a single paddle, as well as all required mounting hardware.
They went in easy. The racks are great.
Racks came and I installed them. They went in easy. The racks are great. I like the lightweight aluminum.
Thanks.
Perfect solution
We store the largest of our SUPs in the dog run on the side of our house. The wind was constantly blowing it over and we didn't like it resting on the ground. The SUP Wall Cradle was the perfect solution, well constructed and lightweight. We hung it a little low for easy grab and go. I highly recommend this product!
Payment & Security
Your payment information is processed securely. We do not store credit card details nor have access to your credit card information.