Roll over image to zoom in
Click on image to zoom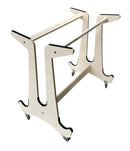 Description
This Board Horse is Super because it not only provides a work bench, but it also doubles as a surfboard storage unit, allowing for surfboard organization and a wax & ding station!
The rack can actually hold up to 4 different boards at once: 
2 spaces for side-by-side stacking,
One middle drop-slot (a good spot for holding boards in place while doing ding repair on the rails. 
Top-load area to store the board laying it flat, change fins out, or scrape/apply wax before a go-out.
Dimension:
36" High x 37.25" Wide x 24" Deep
The rack is offered both with and without wheels (which enables easier mobility) allowing for maximum flexibility in storage and/or making for a module workspace. 

What are the dimensions? Also, wanted to confirm the width of the slots (buying this for two SUPs and one board).

+ Show Answer
Payment & Security
Your payment information is processed securely. We do not store credit card details nor have access to your credit card information.