Roll over image to zoom in
Click on image to zoom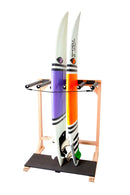 Description
This is the Stand Up Paddle version of our most popular selling free-standing surf rack.  It's beefed up, with stronger steel dowels covered in high quality neoprene foam, stronger hardware, and a reinforced chasis.  These features provide enough structural integrity so that the racks can support bigger SUP boards up to 11'.  This rack will hold 3 SUP boards comfortably with the fins attached and has all the quality and craftsmanship that you would come to expect with a product from Epic. 
Product Dimensions - 40" w X 60" h x 25" d
 
The storage system also has the bungee system that provides additional security and peace of mind to keep your boards held down.
hi quick question, the grassy rack, does it have foam underneath for protection? as far as protection which one is softer, grassy rack or foam rack?

+ Show Answer

Great question.  To answer you directly the Grassy does not have any additional foam padding underneath.   

Comparatively, the Grassy is pretty much in alignment with the Foamy in terms of their "softness" factor for protection. 

That being said if I were a surfboard I would probably choose the foam as it just feels better.   

Really though they both offer more than adequate protection for surfboards.  

Hi is it possible to dismantle the rack?

+ Show Answer

Yes, this rack usually ships flat-packed, with a simple assembly process that includes color-coded stickers.   So it makes it easy if you need to ever disassemble and move at a later point.

Hello, I have a 10"4" SUP and 3 shortboards, would they all fit on thee comfortably?

+ Show Answer

This rack is meant to hold 3 boards.  However, depending on how you put the boards in + the size of the fins of the shortboards it might be fine.  

We could also do a custom setup for you, by just adding one more dowel in a slot, for that third shortboard.   Let us know if you have any other questions! 

I actually have 3 SUP boards that are 14' long and 30" wide. Lakeshore is the manufacturer. Easier to get our dogs on these. So wold your rack work for me? I would anticipate possibly getting a couple more in the future, so 3 would be good but a 5-place may be better. Also have 2 kayaks that I would like to store vertically in my garage. Do you ever make racks for a combination of boards and kayaks? Lots of questions, sorry. Let me know. Thanks

+ Show Answer

Are your prices in US$ or AUD$

+ Show Answer

All of our prices are in US $ Dollars.

Does the woody surf rack come assembled and/or what does it require to be assembled?

+ Show Answer

When we ship this rack it comes flat-packed.  It has a simple assembly, broken down into 6 steps, with color coded stickers.  It should take no longer than 10-15 minutes to put together.  All that is needed is a Phillips-head screwdriver. A drill is suggested, but not needed.

If the rack is purchased and picked up using the 'Local Pickup' option used at checkout then the rack will come fully assembled.

HI The picture shows four places -- are you sure it only holds three boards? Thanks

+ Show Answer

Sorry for the confusion.  Yes the picture shows 5 slots for boards, but the actual product holds 3 full size SUPs with fins.  

 

However, we can make a custom version if you need, for 4 or more boards.  The custom order form can be found here.

Can you make one of these for 8 boards?

+ Show Answer

Yes we can.  It would be a custom build, but can easily do it for you.  Please email info@epicsurfracks.com for details.
Good build quality, nice design. Shipped to my house in a flat box, was pretty easy to assemble, in a short amount of time. Everything looks great, just was a little expensive.
Just set this up at our lake house, and must say I am really impressed with the quality. We now have an organized porch too!
Payment & Security
Your payment information is processed securely. We do not store credit card details nor have access to your credit card information.