Roll over image to zoom in
Click on image to zoom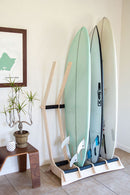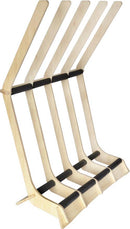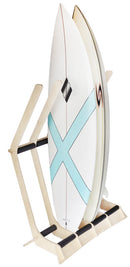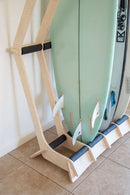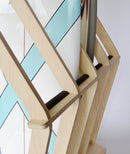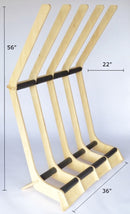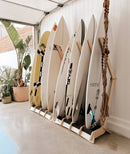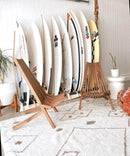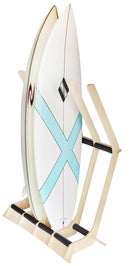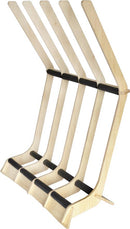 Description
Our economical approach to the high-quality freestanding surfboard racks we are known for.  Friendly on the budget and packed with value, this rack cleanly displays a small to medium sized quiver of boards with fins installed. There's options for 3-5 boards to custom suit your personal needs. 
Made from 100% baltic birch it's a great floor rack to keep inside the home, garage, or even use as a retail display.  The total width of this rack is 27", 36", or 45" so it can pretty much be placed anywhere. 
The rack's full dimensions are:
3 Slot:  56" H x 27" W x 22" D

4 Slot:  56" H x 36" W x 22" D

5 Slot:  56" H x 45" W x 22" D
The storage slots are approximately 8" wide so it will accommodate most shortboards, and longboards (up to 8 feet in length) with the fins installed. (Pro-tip: if you have a board with a longer fin, such as a longer single-fin you can simply put this boards on the outer slots of the rack eliminating any headaches with the boards getting jammed together.) 
Simple assembly. Goes together in minutes!
This rack also has included tail and rail protection areas that safely cradle the most important touch-points of those precious boards. 
Have a question?  Simply click the link below!  or email us here!
Can this rack hold SUP (Stand Up Paddle) boards?

+ Show Answer

Can I use this rack outdoors?

+ Show Answer

This rack is made from 100% baltic birch plywood that is untreated so we don't recommend using it in the outdoors, unless you want to treat & seal with with an outdoor-friendly clear-coat.  

It's really a rack meant for the indoors unless the wood is treated with a sealant. 

You'll see a lot of information online about baltic birch being a great outdoor wood on it's own, but in our professional opinion that simply isn't the case.  Wood is a living breathing organism, and needs to be protected from moist environments (this includes humidity.) The best way to protected it from this moisture is with a proper sealant. 

Unfortunatley we don't have a sealed version of this rack but we have some other racks found here that have the sealant included and are more friendly for an outdoor or marine environement.
Great surf rack
Using it for indoors. Looks good. Sturdy for our needs. Bit tricky to assemble but happy with the finished product and looks good inside our apartment.
I like it but wish it was more sturdy for longboards. Also its too small for paddleboards.
Finally!!! A place for the boards
Very well thought out surfboard rack. Can easily fit a full quiver 6/7 boards. Fits in the corner of my room. Awesome product -Aaron
Payment & Security
Your payment information is processed securely. We do not store credit card details nor have access to your credit card information.