Roll over image to zoom in
Click on image to zoom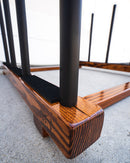 Description
The Pig Dog stance is perfect for when pulling into a tight barreling wave.  The Pig-Dog rack is perfect for storing boards into tight fitting spaces in your home.  Whether trying to put the boards under a stairwell, in a closet, or under a porch or deck, this rack will keep your boards easily accessible at all times, all while preventing them from laying on top of one another.
Perfect for Shortboards, Longboards, or even Stand Up Paddleboards (SUP) this rack has all the premium features including steel core dowels with high quality neoprene rubber padding, foam rail protection, and knot-free hand-picked wood, made of clear fur.
This surf rack can be shipped anywhere in the USA, and was also designed and built here as well.
A great alternative to wall mounted racks. There are no holes to drill in the wall or ground, and once it's setup it can be moved anywhere with ease.
Available in hi-gloss mahogany (can be used indoor & outdoor) & sanded wood finishes (indoor use only.)
MEASUREMENTS:  44" W x 26" H x 40" D   (Rungs are spaced 10" apart - Holds 4 Boards)
+ Show Answer

This hand made free-standing rack comes with an all-weather sealant that includes a UV inhibitor.  The sealant helps with the longevity of the rack if storing outdoors and with exposure to the elements.  Like most products that are made of wood, your mileage may vary depending on how much exposure (Sun, Wind, Salt, Moisture) it has to the elements and how frequent.  However, that being said we've personally kept these in the outdoors by the beach in Southern California with a lot of direct contact to sun and moisture, and they have held up without fail for several years.

Apologies for the long-winded response.  However, we wanted to clarify this and also point out that nothing is truly "weatherproof"  to set expectations appropriately.   These have been a highly popular product and think you will be stoked on them, but If you have any further concern please don't hesitate to call us directly at 888-964-6646 or email info@epicsurfracks.com and we'd be happy help.  

Hi is it possible to dismantle the rack?

+ Show Answer

Yes, this rack usually ships flat-packed, with a simple assembly process that includes color-coded stickers.   So it makes it easy if you need to ever disassemble and move at a later point.

Are your prices in US$ or AUD$

+ Show Answer

All of our prices are in US $ Dollars.

Can you make this in a two board version

+ Show Answer

Yes we can!  Please call us directly at 888.964.6646 or email info@epicsurfracks.com, and let us know what type of boards you'll be using, so we get the rack's measurements right.  

 

We also have a similar rack all ready with a 2-board version.  Check it out here: https://www.epicsurfracks.com/SUP-Surfboard-Dock-Rack

Whats the difference between the two freestanding surf racks you have on your website? I live in San Diego and want to purchase a rack asap. Im looking at the two 5 rack vertical options.

 

+ Show Answer

There are essentially two options available for our freestanding surf racks.  These are Horizontal Loading, and Vertical Loading.  

 

The Vertical Loading racks made of wood are all hand-built in San Diego, and are designed to economize space, all while looking great.  We have many colors and styles to choose from, something to match any room's furnishings.

 

The Horizontal Loading racks have two further designs. A Metal version and a Wood/Metal version.  The former are made overseas hence the cheaper pricing, but the quality is still really nice.  The Wood/Metal versions are hand-made in San Diego, and are typically wood grain, but can be customized to any color / style desired.  Just go to our 'Custom Order' tab at the top of our page, and you can request a quote for what you're looking for.

 

One major difference is the Horizontal loading racks can accommodate both Surfboards, and Stand Up Paddleboards (SUP.)  While the Vertical loading racks are suitable for surfboards up to 10' in legnth, and are more designed around efficiency of space.  

 

As for living in San Diego, you can simply choose "Local Pickup" option during checkout, and avoid any shipping.  Some of these racks come fully assembled upon request.
Boards are now stacked nicely under my stairwell!!
Payment & Security
Your payment information is processed securely. We do not store credit card details nor have access to your credit card information.