Roll over image to zoom in
Click on image to zoom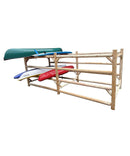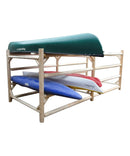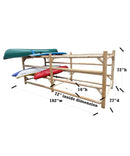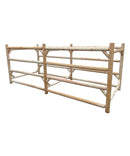 Description
A great alternative to leaving your watercraft docked or on the ground, this highly compatible 24 boat freestanding log rack is perfect for retail & rental businesses, resorts, as well as large families who love to chase epic water adventures!  Sturdy and secure, it will stand the test of time, and is quite functional!

This rack is huge, and even capable of holding up to 2400 lbs....and if our math still serves us correctly, that's 100 lbs per watercraft!
With three out of the four storage slots being accessible without the need to lift any items overhead, it's easy for a single individual to prop their kayak or any other water vessel onto the sturdy  horizontal post, and safely slide it across to the rear beam. Just keep in mind the tallest storage location is 6 feet tall which still allows for single individual access, but might require a slight overhead reach, and possibly necessitate the help from a buddy.
As for what it's made of: Norther White Michigan Cedar.
Don't know much about lumber? Don't worry, we're here to help! We once asked a simple question: what makes Northern White Michigan Cedar top dog of the logs when it comes to outdoor storage? Here's what we found:
Michigan Northern White Cedar goes to work for you since it is one of the only species of wood that releases natural oils. This makes it resistant to rotting from snow in the winter, cracking from the sun on hot summer days, or sagging/warping over time.
Customize the look of your new kayak rack to match your home/dock by picking from a natural or canyon brown finish. For all the "do it yourselfers" at home that love to get their hands dirty, go ahead and choose no finish and make it a fun project! We recommend choosing an outdoor-purposed sealant to further protect your nice rack from the elements.
...in need of less storage? Check out our 12 Log Kayak Rack!
Product Dimensions 
72" High 
77" Deep
182" Wide
16" Height Between Levels
72" Inside Dimension
How will my package arrive?

+ Show Answer

This rack will arrive unassembled with everything that is required to fully assemble your new kayak rack which includes glue, torx bits, and fasters. Assembly time takes around 30 - 60 minutes when using a common power drill. Instructions are included but we've also attached a link to a video that has step by step instructions. https://youtu.be/zE_ct5s3oEw

How Do I Preserve the Life of My Kayak Rack?

+ Show Answer

We have a few recommendations to help prolong the life of your kayak rack for years to come! Rather than placing the legs of your rack directly on the ground, it's beneficial to place them on landscaping blocks or a similar product. Also, choosing one of the finish options will help your rack withstand any harsh weather conditions. If you choose to apply the finish yourself we recommend allowing the wood to age just a bit and then applying a breathable outdoor finish. If you decide no finish at all, the wood will weather into a nice gray color and still last for years.

What types of watercraft will fit?

+ Show Answer

Just about any type of watercraft will fit on this rack! Canoes, SUP's, kayaks, small rafts or anything that is 100lbs or less and is 7 feet or longer so it can rest on both sturdy horizontal beams.
Payment & Security
Your payment information is processed securely. We do not store credit card details nor have access to your credit card information.