Roll over image to zoom in
Click on image to zoom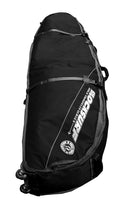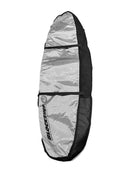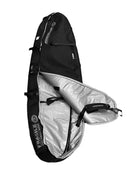 Description
This is the perfect bag to get you and your gear to uncrowded, pumping surf.  Look no further than this 3 Surfboard Travel Bag with Wheels!   High quality design & features that will have you more organized, worrying less about the safety of your boards, and allowing you to focus more on scoring great waves. 
Features:
Holds 3 Boards:  20 Inches Wide and 3.5" Thick (each board)
Durable Wheels: Never again will you have to drag your gear through a dirty parking lot.  It's a vacation so you should enjoy it, and let the wheels do the work. 
600D Polyester fabric

that offers UV protection and prevents ripping or tearing when those pesky airline attendants are handling your gear

Foam board divider because we like our wax on top and not on the bottom of our surfboards
10mm Waterproof padding that cradles your board with high quality protection along your travels
Removable shoulder strap making it easy to transition to a single hand handle when you're going short distances
Non-corrosive nylon zipper which protects against rust and sealing shut from saltwater
Internal storage compartment to keep your wax and fins organized
Removable storage hook to hang up your travel bag when its not in use
If you're anything like us (frothing wave hunters) our boards provide us with unforgettable times and we want to take care of our little magic memory makers. We know pesky airline workers have found creative ways to ding and buckle our precious cargo while setting sail for a long awaited strike mission.
That's why we're excited to introduce this world class protective board bag featuring 10MM High-Density Foam, this surfboard travel bag has the protection needed to withstand the uncanny abuse of any airline travel.  Containing Internal and External Tie downs, the bag's protective foam will stay snug up against your board, decreasing the likelihood you'll be finding dings, when getting to your surf destination. 
Multiple vents allows air to safely move throughout the board bag, helping with air pressure & temperature changes.  Heavy-duty YKK#10 corrosion resistant plastic zippers ensure the zippers will never seize on you from salty air.  As an added layer of protection there is a 600D polyester reinforced nose cone, keeping the most delicate area of your board intact.  
Know when you're off the plane & traveling to your destination or going on a surf check, this board has you covered from the beating rays of our unforgiving sun.  There is a highly reflective heat & UV external material that is perfect for positioning towards the sun, preventing board-delaminations, wax melting, and overall yellowing of your precious watercraft. On the inside you'll know there's an added layer of insurance with wax & UV internal lining.  
Outside of the high level build quality of this bag know there are other the bells and whistles, such as multiple internal storage compartments.  Perfect for storing extra sets of  fins, leashes, rash guards, ding repair kits, etc.  There's also added padding at the handle, and a nicely padded and anti-slip shoulder strap.  When you're not using this surfboard travel bag there's an attached storage hook which is perfect for hanging in a closet, or on the wall, keeping it out of the way, until your next surf adventure.
This board bag not only looks great, has the durability to last, and top notch features, but most importantly will have you focusing on what's really important: the actual experience of traveling, and finding great waves.  Rest easy, this bag allows you to kick back, enjoy your free airline pretzels, and not to stress about your quiver along the journey.
Have a Question?
Be the first to ask a question about this.
Payment & Security
Your payment information is processed securely. We do not store credit card details nor have access to your credit card information.