Roll over image to zoom in
Click on image to zoom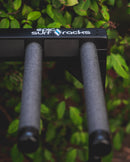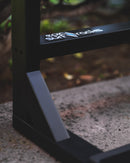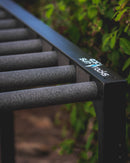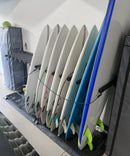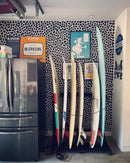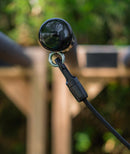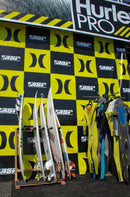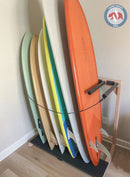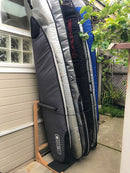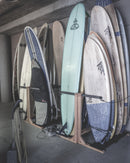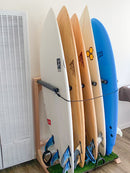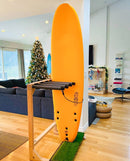 Description
This surfboard rack screams subtle style.  A darker approach to our highly popular vertical freestanding surf rack design, this rack comes with the foam dowel protection, board-rail protection, and locking bungee system that has helped make this rack line so popular.  Also included is the stylish, lively, and protective grass base to cushion the bottoms of your shortboards, longboards, and fishes.  The flat black finish provides a very sleek, and low-key approach, and is also outdoor friendly.  
We've spent a great deal of time figuring out how to get a great looking paint job, and are proud to display this rack in our homes.  We're positive you'll feel the same way, whether using this surfboard rack in your home, office, surf school, even at a retail or industry trade show. This rack was designed to store boards securely, while looking well organized.   
This model can hold to 5 or 7 surfboards up to 10 feet in length.  (If you have more boards to store, we can also do a custom version.)   We've spent a lot of time designing a surfboard rack which not only looks great, but also minimizes wasted space.  It's created to store boards with the fins installed (for a standard thruster or quad setup.) Once you have this set up you'll likely be stoked, and your board area will be for sure well organized.      
Grassy Base:
This particular surfboard rack comes with a custom faux grass cushion, which the surf boards sit upon.  Fresh in styling, but also functional a feature like this is necessary for long-term protection for surfboards.  Stress points can form on a surfboard if weight is placed on it for extended periods of time against hard surfaces. This soft grass padding eliminates this concern. Most surf racks on the market don't take this into consideration.  This is especially important for surfboards with swallow tails (fishes) bat tails.  
Wood & Finish:
These racks are made from a hand-picked hardwood to provide the best possible finish and look, and to ensure this product is of the upmost quality.  Every part of the rack is then assembled by hand, right here in the USA.  The paint process goes through a multi-stage process to ensure that the finish not only looks fantastic, but also lasts a long time.  This paint helps seal the wood from moisture and the elements as well, ensuring it's durability.  We never recommend leaving surfboards exposed to direct sunlight, and other elements, but if needed to be stored with some outdoor exposure you'll know this rack will hold up.  Pete the owner of the company has used this exact rack in his back yard (by the beach) for several years and it's still going strong. 
Freestanding:
One of the best parts about this board rack is that there's never any holes needed to drill in the wall, and can later be moved easily at your convenience.  As a tip: the surfboard leashes can be wrapped around the dowels, while extra fins & surf wax can be conveniently stored underneath the base, and out of sight.
We've done a lot of work ensuring this product not only looks great, but works great too, and our customers agree. We guarantee you'll love it!
hi quick question, the grassy rack, does it have foam underneath for protection? as far as protection which one is softer, grassy rack or foam rack?

+ Show Answer

Great question.  To answer you directly the Grassy does not have any additional foam padding underneath.   

Comparatively, the Grassy is pretty much in alignment with the Foamy in terms of their "softness" factor for protection. 

That being said if I were a surfboard I would probably choose the foam as it just feels better.   

Really though they both offer more than adequate protection for surfboards.  

I have two 10 1/2 foot paddle boards will vertical foamy work with these boards?

+ Show Answer

That rack might be just a bit undersized for those boards, as it's meant for surfboards not Stand Up Paddleboards.    Our SUP version of the Foamy or Grassy rack will be better suited for this situation.    It's a very similar design just meant for larger & heavier boards.  The rack is taller, has higher structural integrity, and greater width for the bigger fins of SUP boards.  These racks hold 3 boards (instead of the 5 or 7 of the standard racks.)    We could also do something custom if you'd prefer.  Feel free to email us any other questions at info@epicsurfracks.com  or Call Us Directly at 888-964-6646

+ Show Answer

This hand made free-standing rack comes with an all-weather sealant that includes a UV inhibitor.  The sealant helps with the longevity of the rack if storing outdoors and with exposure to the elements.  Like most products that are made of wood, your mileage may vary depending on how much exposure (Sun, Wind, Salt, Moisture) it has to the elements and how frequent.  However, that being said we've personally kept these in the outdoors by the beach in Southern California with a lot of direct contact to sun and moisture, and they have held up without fail for several years.

Apologies for the long-winded response.  However, we wanted to clarify this and also point out that nothing is truly "weatherproof"  to set expectations appropriately.   These have been a highly popular product and think you will be stoked on them, but If you have any further concern please don't hesitate to call us directly at 888-964-6646 or email info@epicsurfracks.com and we'd be happy help.  

Hi is it possible to dismantle the rack?

+ Show Answer

Yes, this rack usually ships flat-packed, with a simple assembly process that includes color-coded stickers.   So it makes it easy if you need to ever disassemble and move at a later point.

Looking at the 5 board so the height of the rack is 42 and the depth is 24 ? Its going in the garage and want to make sure I can still get the car in. So it will stick out from the wall 24 inches? thanks

+ Show Answer

Yes, the furthest from the wall it comes out is 24".    

However, if you have wider boards (retro fishes / longboards) the boards themselves may come out past this 24" point.  Please measure accordingly (+4" over your board width for enough wiggle room.)

What is the width for each partition? If I keep my boards in board bags, will each slot hold 1 board in bag?

+ Show Answer

The workable space in each slot of this rack is just over 4.5".  We've seen people store boards in their bags with no problems. 

However, it also could be a little tight, as it will come down to how thick each of your boards are, and how thick the board bags are.

If they're on the thicker side 3"+ we coud aways do a custom rack for a little more, so you'll have plenty of wiggle room.  

What is the spacing in between the dowels on the 7 board vertical rack? Some of my boards are thinner than others so wondering if I may be able to fit two in one slot. thanks in advance.

+ Show Answer

The 'workable' space between dowels on the 7 board rack (also the same for the 5 board version) is just under 4.5".

Some people have been able to squeeze 2 (thin) boards into each slot, but could be tight.  There are a lot of variables in terms of where the rocker is placed, and how the deck of the board has been shaped.  For general consideration I wouldn't recommend it, as a tight fight will cause pressure on the boards (potentially decreasing the longevity of the board's glass job.)  

We could however make something custom for you, with wider dowel spacing so that 2 boards can comfortably fit into each slot, though this will increase the price for the unit itself, and potentially the shipping cost.  If you'd like to explore options for this you can fill out our custom order request form here.

I see the measurements for the 7 board rack are 42x46x24. Curious to know if the rack is 42" or 46" wide. So I can figure out where I can fit one against the wall. Thanks!

+ Show Answer

The size for the 7-board vertical freestanding rack is:

42" High
46" Wide
24" Deep

The size for the 5-board freestanding rack is:

42" High
34" Wide
24" Deep

Hi, Will this 5 board rack fit 5 SUP surf boards? All under 9 feet and max thickness is 4 inches. Thanks!

+ Show Answer

Though it may seem to fit, we don't recommend it, as the width of the SUP doesn't allow the board to be stored correctly.  The ergonomics of this rack were not designed to hold SUP.

We recommend using the 3-Board Foamy - SUP version instead.

You can also email us at info@epicsurfracks.com and we can modify this rack to suit your needs.

 

Are your prices in US$ or AUD$

+ Show Answer

All of our prices are in US $ Dollars.
Excellent product
Good quality, look amazing and fit perfect the 7 boards
Excellent Surf Racks
Love these racks! I'll buy from Epic Surf Racks again. I was provided excellent customer service by the owner of the shop, Pete, and he's a cool dude when I met him in person. Bien buena onda ese guey.
The dark colors on the racks, which contrast favorably against the white walls in my garage, give the product a cool and polished appearance. In addition, the racks are sturdy and they come with plenty of padding to keep the boards safe from scratches. Having synthetic grass as the floor mat on these racks is also a really cool touch. In the picture below, there are two empty slots in this picture because I'm waiting on my 9'6" to exit the shaping room and there's another shortboard in my wishlist. If the racks will be kept in-doors, make sure your ceiling is high enough to accommodate longboards. I'm barely making the cutoff with my 9'6" so make sure you keep this in mind if you're planning to keep these racks in-doors.
As a side note, I brought a truck to pick up these racks in an assembled state but I didn't bring enough padding to keep the racks from getting scratched during the bumpier parts of the road. Thankfully, Pete provided me with some towels to better protect the racks against scratches during the bumpy ride back home.
My suggestions for improvement would be to have the ability to tighten up the leash in order to better secure the boards in place. This could be useful in case there's an earthquake that could rock the boards away from the racks. Just a minor suggestion.
Overall, I'm extremely satisfied with the racks and will buy from you guys again.
YYEEWW!!
Also, I've been meaning to just say.... your surf racks are so so so awesome - I mean truly!
Putting them together (I did it all myself single-handedly) was a very good and extremely satisfying experience - I enjoyed seeing all the details and care that had very obviously been put into making sure whoever assembled them would be successful (even the extra screws just in case : ) - the precision in the way holes were pre-drilled, the way they are painted in just the right spots (and you know it along the way because of the fantastic visual queues, clues and guides/markers - yup color-coded!!!), the excellent instructions, beautiful overall craftsmanship and quality... and and.... AND the result is just pure delight for such a great functional and practical way to care and store the boards we love and that provide for so much joy!
Thank you
Payment & Security
Your payment information is processed securely. We do not store credit card details nor have access to your credit card information.