Roll over image to zoom in
Click on image to zoom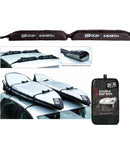 Description
Double Wrap Rax 
Designed for any Car, Truck, or SUV.  This rack is especially suited for automobiles without gutterless roofs.  This soft surf rack is easy to set-up and easy to take off.  The neat carrying case also keeps everything organized when placed away into storage.  There are also neoprene covered buckles, which help prevent dings in the board's glass job and also prevent scratches to the paint of the automobile.  Travel in style, and focus more on surfing.
This rack can hold:
1-6 Short Boards; OR
1-2 Longboard & 2 Short Boards; OR
A load of comparable size / weight, such as snowboards and wakeboards.  
Features Include:
A rust-proof cam buckle that includes Neoprene covers to help protect your boards AND your car.
UV Protected webbing - will hold up to the test of time.
Aerodynamic raised pads - helps keep handles and your zippers from scratching the paint on the roof.
The easy-clean top helps prevent wax buildup.
A convenient re-usable carry bag for easy storage.
**Image is for reference - actual product may slightly vary**
I have a Toyota Highlander will these racks fit????

+ Show Answer

These racks are universal, so they should work perfectly fine on your Toyota Highlander.  

Are your prices in US$ or AUD$

+ Show Answer

All of our prices are in US $ Dollars.
Didn't work
It didn't work on my car 😔
Fast shipping, product came super quick and is working out well on my Honda Civic DX
Payment & Security
Your payment information is processed securely. We do not store credit card details nor have access to your credit card information.