Roll over image to zoom in
Click on image to zoom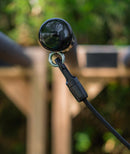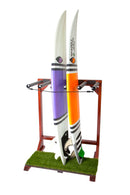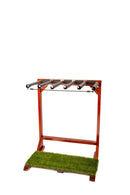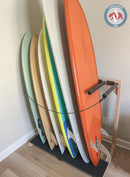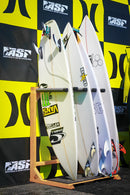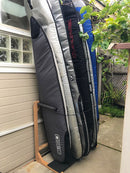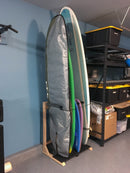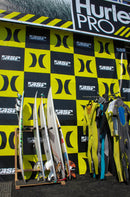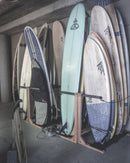 Description
Our Finished Grassy rack is created with an absolutely gorgeous red oak hardwood that is hand-selected by a woodworking specialist, then milled and assembled to near perfection. 
This rack will hold your boards in place vertically, in a secure manner, without having to drill holes into walls. As a result, you can also move this freestanding rack anywhere you want.  As an added layer of protection it also comes with a locking bungee system that securely keeps your surfboards in place. 
The protective grass tail pad provides a great cushy sole for your board tails, and also looks amazing. The pad is great at protecting from potential dings, especially on more troubling boards with fish and bat tails that are often prone to dings in the tail. 
The Grassy freestanding rack is protected and styled with a clear-coat finish and a mahogany colorant that fits comfortably in the modern living room. The rack even has a UV inhibitor that makes it perfect for outdoors placement, or anywhere you might like.
This rack can store boards up to 10' in length, and comes pre-installed with the aloha spirit.  Have any questions?  Feel free to reach out. 
hi quick question, the grassy rack, does it have foam underneath for protection? as far as protection which one is softer, grassy rack or foam rack?

+ Show Answer

Great question.  To answer you directly the Grassy does not have any additional foam padding underneath.   

Comparatively, the Grassy is pretty much in alignment with the Foamy in terms of their "softness" factor for protection. 

That being said if I were a surfboard I would probably choose the foam as it just feels better.   

Really though they both offer more than adequate protection for surfboards.  

I have two 10 1/2 foot paddle boards will vertical foamy work with these boards?

+ Show Answer

That rack might be just a bit undersized for those boards, as it's meant for surfboards not Stand Up Paddleboards.    Our SUP version of the Foamy or Grassy rack will be better suited for this situation.    It's a very similar design just meant for larger & heavier boards.  The rack is taller, has higher structural integrity, and greater width for the bigger fins of SUP boards.  These racks hold 3 boards (instead of the 5 or 7 of the standard racks.)    We could also do something custom if you'd prefer.  Feel free to email us any other questions at info@epicsurfracks.com  or Call Us Directly at 888-964-6646

+ Show Answer

This hand made free-standing rack comes with an all-weather sealant that includes a UV inhibitor.  The sealant helps with the longevity of the rack if storing outdoors and with exposure to the elements.  Like most products that are made of wood, your mileage may vary depending on how much exposure (Sun, Wind, Salt, Moisture) it has to the elements and how frequent.  However, that being said we've personally kept these in the outdoors by the beach in Southern California with a lot of direct contact to sun and moisture, and they have held up without fail for several years.

Apologies for the long-winded response.  However, we wanted to clarify this and also point out that nothing is truly "weatherproof"  to set expectations appropriately.   These have been a highly popular product and think you will be stoked on them, but If you have any further concern please don't hesitate to call us directly at 888-964-6646 or email info@epicsurfracks.com and we'd be happy help.  

Hi is it possible to dismantle the rack?

+ Show Answer

Yes, this rack usually ships flat-packed, with a simple assembly process that includes color-coded stickers.   So it makes it easy if you need to ever disassemble and move at a later point.

Looking at the 5 board so the height of the rack is 42 and the depth is 24 ? Its going in the garage and want to make sure I can still get the car in. So it will stick out from the wall 24 inches? thanks

+ Show Answer

Yes, the furthest from the wall it comes out is 24".    

However, if you have wider boards (retro fishes / longboards) the boards themselves may come out past this 24" point.  Please measure accordingly (+4" over your board width for enough wiggle room.)

What is the width for each partition? If I keep my boards in board bags, will each slot hold 1 board in bag?

+ Show Answer

The workable space in each slot of this rack is just over 4.5".  We've seen people store boards in their bags with no problems. 

However, it also could be a little tight, as it will come down to how thick each of your boards are, and how thick the board bags are.

If they're on the thicker side 3"+ we coud aways do a custom rack for a little more, so you'll have plenty of wiggle room.  

What is the spacing in between the dowels on the 7 board vertical rack? Some of my boards are thinner than others so wondering if I may be able to fit two in one slot. thanks in advance.

+ Show Answer

The 'workable' space between dowels on the 7 board rack (also the same for the 5 board version) is just under 4.5".

Some people have been able to squeeze 2 (thin) boards into each slot, but could be tight.  There are a lot of variables in terms of where the rocker is placed, and how the deck of the board has been shaped.  For general consideration I wouldn't recommend it, as a tight fight will cause pressure on the boards (potentially decreasing the longevity of the board's glass job.)  

We could however make something custom for you, with wider dowel spacing so that 2 boards can comfortably fit into each slot, though this will increase the price for the unit itself, and potentially the shipping cost.  If you'd like to explore options for this you can fill out our custom order request form here.

I see the measurements for the 7 board rack are 42x46x24. Curious to know if the rack is 42" or 46" wide. So I can figure out where I can fit one against the wall. Thanks!

+ Show Answer

The size for the 7-board vertical freestanding rack is:

42" High
46" Wide
24" Deep

The size for the 5-board freestanding rack is:

42" High
34" Wide
24" Deep

Hi, Will this 5 board rack fit 5 SUP surf boards? All under 9 feet and max thickness is 4 inches. Thanks!

+ Show Answer

Though it may seem to fit, we don't recommend it, as the width of the SUP doesn't allow the board to be stored correctly.  The ergonomics of this rack were not designed to hold SUP.

We recommend using the 3-Board Foamy - SUP version instead.

You can also email us at info@epicsurfracks.com and we can modify this rack to suit your needs.

 

Are your prices in US$ or AUD$

+ Show Answer

All of our prices are in US $ Dollars.

Does the woody surf rack come assembled and/or what does it require to be assembled?

+ Show Answer

When we ship this rack it comes flat-packed.  It has a simple assembly, broken down into 6 steps, with color coded stickers.  It should take no longer than 10-15 minutes to put together.  All that is needed is a Phillips-head screwdriver. A drill is suggested, but not needed.

If the rack is purchased and picked up using the 'Local Pickup' option used at checkout then the rack will come fully assembled.

Whats the difference between the two freestanding surf racks you have on your website? I live in San Diego and want to purchase a rack asap. Im looking at the two 5 rack vertical options.

 

+ Show Answer

There are essentially two options available for our freestanding surf racks.  These are Horizontal Loading, and Vertical Loading.  

 

The Vertical Loading racks made of wood are all hand-built in San Diego, and are designed to economize space, all while looking great.  We have many colors and styles to choose from, something to match any room's furnishings.

 

The Horizontal Loading racks have two further designs. A Metal version and a Wood/Metal version.  The former are made overseas hence the cheaper pricing, but the quality is still really nice.  The Wood/Metal versions are hand-made in San Diego, and are typically wood grain, but can be customized to any color / style desired.  Just go to our 'Custom Order' tab at the top of our page, and you can request a quote for what you're looking for.

 

One major difference is the Horizontal loading racks can accommodate both Surfboards, and Stand Up Paddleboards (SUP.)  While the Vertical loading racks are suitable for surfboards up to 10' in legnth, and are more designed around efficiency of space.  

 

As for living in San Diego, you can simply choose "Local Pickup" option during checkout, and avoid any shipping.  Some of these racks come fully assembled upon request.

Can you make one of these for 8 boards?

+ Show Answer

Yes we can.  It would be a custom build, but can easily do it for you.  Please email info@epicsurfracks.com for details.

How do fishes and other wider boards fit into the freestanding racks? Also if I live in San Diego can I come pick up the rack? thanks Ben

+ Show Answer

Wider boards such as Fishes / Mini-Simmons fit well in the rack.

Since swallow tail/fish boards are pointed we recommend getting a rack with a padded base (foamy or grassy version) This helps protect the longevity of the glass job, especially in these delicate areas.

 

As for local-pickup not a problem.  You simply select 'Local-Pickup' during the checkout process, to avoid any shipping costs, and we¹ll be in touch as soon as it¹s ready for pickup.
Thank you Pete, and Epic Racks for Helping me get organized! The rack looks great high quality as promised, I was not dispointed, went together nice and easy great color coated instructions.
It looks so good...Thank You!
Payment & Security
Your payment information is processed securely. We do not store credit card details nor have access to your credit card information.