Roll over image to zoom in
Click on image to zoom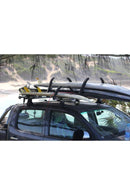 Description
A simple and secure way to get to the surf.  In earlier days one had to use straps to tie down a board to a roof rack.  Now there's a better option.  Imagine simply placing your board onto the rack, and with a push of a button they're locked in, and you're ready to go.  That simple.    
Forgot to get water on the way to your favorite break, but worried about your boards being left unattended in the parking lot? Not a problem.  This rack has a patented system which safely and securely 'locks' your board into the rack with ease.  Soft rubber padding keeps your surfboard from getting any type of dings while in-transit, and when loading & unloading. 
This is an aluminum based system with UV-resistant thermoplastic elastomer rubber padding, ensuring it will hold up in a variety of weather condtions, and providing longevevity.  
Installation:
These are fairly easy to install.  However, you will need an existing roof rack on your vehicle.
If your rack has a black strip in the middle of the bar: The unit will mount directly below that black rubber strip, and you will NOT need the adaptors.  
If your rack does NOT have a black strip:  You will Need to purchase with the adaptors.  These universal adaptors essentially clamp onto any square, flat, or rectangular roof rack cross-bars.
For more information please see the installation video above.
Hello! Regarding the locking surf rack, what comes with the purchase? Looking at the pictures it is difficult to discern. We potentially transport up to three boards at once (one 8' foam board and two 6' fiberglass boards) and I am trying to determine what we would need to purchase. Thank you.

+ Show Answer

With the purchase of 1 unit of the locking surfboard roof racks a pair of 2 lockable roof racks are provided.  These are capable of holding up to 2 surfboards at a time each.  In addition to the actual roof racks (with removable arms) each unit comes with the necessary mounting hardware for channel-based roof racks (ones that have gutters.  In other words the roof racks that have rubber strips running down the middle.)
If your vehicle's roof racks do not have gutters you'll likely need the option with the universal mount adapters.

For your setups and the desired number of boards you're looking to transport we'd recommend going with 2 units (i.e. 2 pairs.)  This will provide the capacity to hold 1-4 boards.  

When not in use you can simply remove the arms of the unused racks.  
So if you decide to take just 2 boards down to the beach you'll be all set.

Are your prices in US$ or AUD$

+ Show Answer

All of our prices are in US $ Dollars.
Great product, shipped quick, looking forward to my next trip to the beach!
Payment & Security
Your payment information is processed securely. We do not store credit card details nor have access to your credit card information.