Roll over image to zoom in
Click on image to zoom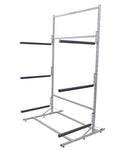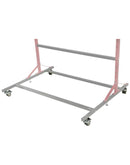 Description
This might just be your new favorite storage item!   It's also our most cost-friendly freestanding option.  Whether it's a kayak, SUP, or surfboard this rack will keep all your gear in an easily accessible and organized spot. With a beautiful powder coat finish, this rack will be a great addition to any home enthusiasts' garage or dock, while creating more floor space by getting your equipment up and off the ground. Yoga studios, rental shops, or high-end retailers can also benefit from this rack and store your essential product or equipment. With the option of adding wheels to the rack, you can effortlessly roll the rack outside where customers can see your product in great natural lighting, and help showcase your products or services. Yoga teachers, this rack can go where you need it to, so going from rack to water is easier than touching your toes!
One of the best things about this rack is that it is fully customizable to your storage needs. If you only have a few items that need to be stored choose the 3-slot option. If you plan on eventually getting everyone in on the fun and need more room for storage, you have the option to choose all the way up to 6-slots. Quivers change so your board rack should too. The rack's arms are fully adjustable so you can create more or less space in between slots to accommodate a dynamic quiver. Not only will this look great in any home garage, but it is a welcome addition to any outdoor environment as well. The entire rack is powder coated in a rust-resistant material to make sure it stands up to rough weather conditions. Fully adjustable feet levers allow you to modify each side of the rack for a precise balance on uneven outdoor surfaces.
Product Dimensions:
Rack Arms: 1.25" x 7.5" x 27.5"

12 gauge thick x 1.25" square steel construction

Fully assembled: 37" x 48" x 83"

Weight Capacity: 300 lbs
What is the weight limit?

+ Show Answer

The total weight limit of this rack is 300 lbs. 

What comes in the shipment?

+ Show Answer

What's included in this shipment is everything you need to set up the product:

(1) Freestanding rack frame
(1) Small kit holding all the hardware required
(6) Levelers for the frame
(3-6) Arms depending on number of slots chosen
(1) Allen Wrench
(1) Instruction Manual

Will a 12" SUP fit on this rack?

+ Show Answer

Yes, it should fit a 12" thick SUP board, as well as a 12 foot long board.
Payment & Security
Your payment information is processed securely. We do not store credit card details nor have access to your credit card information.