Roll over image to zoom in
Click on image to zoom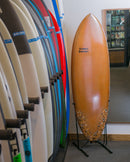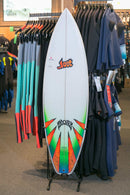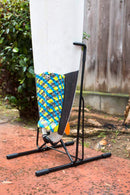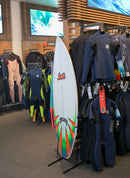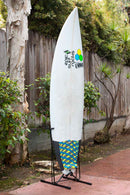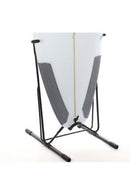 Description
This steel single-surfboard rack is a durable storage solution that also displays the board as a work of art. The rack stores the surfboard vertically, allowing the board to be displayed with the deck facing in or out or showing the bottom off as well. Fully functional as a simple storage device, it is completely freestanding, eliminating any need to drill holes into walls. . Assembles in just seconds, with the provided locking-pin system.
This is the perfect display rack for use at trade shows or in surf shops. It can enliven an existing apparel or accessory rack, or it can be the premier display platform to showcase a shaper or board manufacturer's work. Artists, likewise, will also find this rack useful, as the focal point will the surfboard's deck, with no obstruction to the work. Built to last, the rack is made of a powder-coated steel frame, with rubber protection, to keep the surfboard's glass pristine, free from rubbing, scratches, or dings. Easily remove the board and as simply put it back into place with ease.
*Please Note: Not made for Stand Up PaddleBoards (SUP)
Will the stand work on a 7'4" 2 3/4' thick fun board?

+ Show Answer

This single rack will accommodate surfboards up to 10' in length.  So it is fine for a fun board.    

 

What this rack will not work for is Stand Up Paddle SUP boards. 

this is kind of what we're looking for. it was our son's first board and we made a mosaic. can you give me an idea how far the two black stability supports (upper third of board) grip around the rail? we have about 1 1/2 inches to play with. also, how wide is the gap on the side supports? will it hold a thick board as well as thin? thanks

+ Show Answer

This single standing board rack is designed to hold most surfboards, in a variety of sizes, whether they are thin or thicker.  The board rack itself is roughly 17" in width and bends to accommodate the various thicknesses of the tail.  

This surfboard rack should work well for you as it should support your Son's board as a display piece, and has a minimalist design so it won't detract from the mosaic artwork.  

Hello. I have a 6' x 21"w board that I want to display vertically. Will the Steel Single Rack work for my board? I've struck out with another display option, so I'd like to make sure before proceeding. Thank you!

+ Show Answer

If the board is a surfboard it should work perfectly.  However, if it's a Stand Up Paddle Board (SUP) then it will not work.  

I have a 23" wide, 9 ft board. Those are wider dimensions that most longboards. Will the board fit in here? Are the clamps that hold the board in place adjustable, to fit a variety of widths.

+ Show Answer

As long as it's a surfboard, and not an SUP it should be fine.   The parts that actually "grab on" to the board do adjust to various widths.  

Will the "The Steel Single Rack" hold a 9'6" (114") redwood/balsa long board approximately 75 lbs.?

+ Show Answer

Will this rack support a 10 ft 6 inch paddle board. And is it ok for inside use

+ Show Answer

This is meant for Surfboards, not SUP (Stand Up Paddleboards), it is fine for indoor use. 

Are your prices in US$ or AUD$

+ Show Answer

All of our prices are in US $ Dollars.

Hello What are the dimensions of this rack?

+ Show Answer

The dimensions are 15" wide x 19.5" deep x 24" high.

+ Show Answer

This surfboard rack is meant to hold surfboards & longboards up to 10'(ft).  So you should be good to go.

This rack is not meant for storing SUP Stand Up Paddleboards. 
I bought this stand to display the secondary trophy during the award ceremony for San Diego's PGA TOUR event, the Farmers Insurance Open. The stand has a solid, sturdy design that was great to show off the board - just what I was looking for!
The epic surf rack is a great product. It holds my long board firmly and perfectly straight. It's great for displaying a board that is a work of art like mine. I would recommend it for anyone who needs a vertical stand. Thanks!
Payment & Security
Your payment information is processed securely. We do not store credit card details nor have access to your credit card information.