Roll over image to zoom in
Click on image to zoom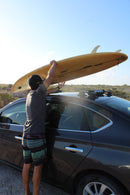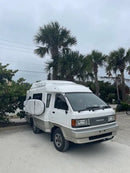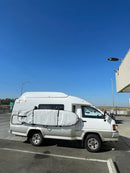 Description
Make the most of your next surf adventure with our Heavy-Duty Suction Mount Board Rack – the perfect solution for vehicles without factory-installed roof racks! Whether you drive a compact sedan or an exotic sports car, this innovative rack makes transporting your boards a breeze. Featuring incredibly strong vacuum-mount suction cups, this rack eliminates the need for roof rack tracks or crossbars, ensuring a hassle-free setup without drilling or risking paint scratches. Simply attach the board rack and hit the road confidently!
Security: Dive into the top-tier performance of SeaSucker, the unrivaled leader in robust suction cup mounts specializing in automotive roof racks. This cutting-edge roof rack system boasts six 6-inch vacuum mounts – four on the front bar and two on the rear bar. Experience ultimate security by placing the cups on your roof, giving the push-button vacuum a few pumps, and witnessing the system securely lock in place. Say goodbye to worries about your gear shifting around during highway drives; these racks provide steadfast stability at speeds up to 70 mph! 
Designed to withstand the elements and resist rust, this surfboard and SUP automotive roof rack features top-quality components. From stainless steel hardware to durable aluminum crossbars, this system is built to withstand rain, snow, and most weather conditions with ease.  These racks are designed for year-round performance and worry-free adventures.
Board compatibility: This surfboard automotive roof rack features 31" wide support bars have protective padding to securely hold your magic stick(s) without dinging them. Utilize the included cam-action straps to stack up to 2 boards, ensuring a quick & tight fastening experience so you can be out there, when it's go-time. While inflatable paddleboards are compatible when fully inflated, we don't really recommend using them at high speeds as they might bounce around a bit.
Vehicle compatibility: No roof rack?  No Problem!  These are designed for vehicles without an existing roof rack system.  No need to drill any holes or have to run tie-down straps through the inside of the vehicle.   They work particularly well for sports cars where after-market roof racks are non-existent.  Some customers have even successfully used these on the sides of their RVs, Sprinter Vans, Camper vans, and other recreational vehicles.  
 What's Included & Dimensions:
2  x  31" Padded Cross Bars (assembled dimensions: 31" x 7" x 5")
All Requisite Vacuum Mounts:  6" in diameter
All mounting hardware & assemblies
10' Nylon cam straps included
Weight: 10 lbs.
Have a Question?
Be the first to ask a question about this.
Payment & Security
Your payment information is processed securely. We do not store credit card details nor have access to your credit card information.