Roll over image to zoom in
Click on image to zoom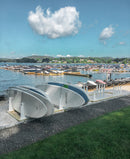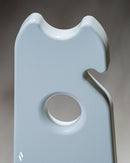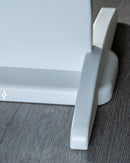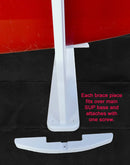 Description
This high quality SUP & Surfboard freestanding rack is designed to easily store your boards in an outdoor environment, making it the perfect option for being used on a dock, pier, or inside the boathouse.
Materials:
The materials used in its construction is a marine grade material called King Starboard, which is a specialized plastic/wood combination, designed for marine environments. This means this rack can be kept outdoors, in the sun, and in & around salty environments; while there will be no worries about the product cracking, warping, or otherwise falling apart.  This top-notch surf rack is designed to last years, making it a perfect option for yacht clubs, SUP rental businesses, beach & lake front property, and even used on boats.
Features:
A great feature about this rack is that it's entirely freestanding, but can also be bolted down into a dock, pier, or concrete, with the included pre-drilled mounting holes found on each corner of the rack.  Fastening the rack down, you can then use the included holes at the top of the rack to use a Surfboard or SUP locking system, helping prevent against theft.  There is also an included bungee to keep things held down against the elements.  Another cool feature is that each rack arms function as paddle holders, allowing for a complete waters ports storage solution.  
Offered in two different colors: Black & White, both colors are of the same great Marine Grade material.  
The optional support arms make this more into a freestanding rack, allowing the rack to stand on its own, without the need to fasten it down into the ground or dock.
Product Dimensions:
Total Height - 20.5"
Total Width (1 - Board) - 15.5"
Total Width (2 - Boards) - 23.25"
Total Width (3 - Boards) - 32.5"
Depth - 4"
Slot Width is 5.5" at entry point, and tapers to 4.5" at the bottom
This rack comes as a pair correct? Not stated anywhere in the documentation.

+ Show Answer

Yes, that's correct this rack comes as a set. 

What are rack support arms and why would you need them?

+ Show Answer

The rack support arms for the SUP Rack for Docks & Piers are used to provide lateral support to the rack if you don't plan to permanently mount the rack to the ground, dock, or flooring. If you plan to mount the rack down permanently you will not need the rack support arms.    If there will be no mounting of the rack using the mounting holes we suggest adding the rack support arms to your order.  

will this product work for paddleboards?

+ Show Answer

This SUP rack for docks & piers should work well for most paddleboards.  If the boards you have are open ocean stand up boards then we have a different rack for that, as those boards are usually much larger and thicker.    

For more information on ordering these please email us at info@epicsurfracks.com or call 888-964-6646

How much does a 3 board rack weigh?

+ Show Answer

The 3-board SUP dock rack weighs roughly 26 lbs for the pair.  

Are your prices in US$ or AUD$

+ Show Answer

All of our prices are in US $ Dollars.
SIMPLE, AND YET, THE BEST
I had a metal rack with cushions on it to preserve my boards. they rested on it horizontally. It rusted within a year and then my niece jumped off my lawn onto the board below to bounce onto my beach. broke the camels back and put a hole in my board underneath the other. this design is so simple, will never rust, will never be jumped on. JUST PERFECT
SUP Stand
Great product - worked perfectly. Shipped very quickly
Perfect Racks
Exactly what I was looking for!!! Easy set up and take down!
Payment & Security
Your payment information is processed securely. We do not store credit card details nor have access to your credit card information.