Roll over image to zoom in
Click on image to zoom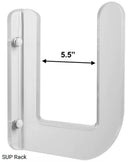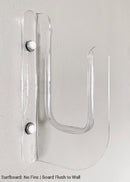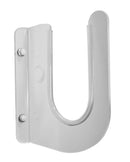 Description
Choosing the right mount:
No Fins on Surfboard | Flush - 2" Gap from Wall | 50 lb max:
This is our "Flush Mount" rack made for keeping a surfboard as close to the wall as possible.  The outermost part of the rack comes off the wall only ~5".  It has a ~2" gap from the wall, which is usually enough for most modern rocker profiles. This rack is great for boards that have no fins installed (or with the fins installed facing out away from the wall. 
Standard Fin Surfboard | Up to 6" Fins | 4" Board Gap | 50 lb max:
This is similar to the flush mount version above, but has more space coming off the wall, so that it can hold a board that has standard fins installed.  Accommodates Up to 6" fins.
Big Fin Surfboard | Up to 10" Fins | 4" Board Gap | 50 lb max:
Much more room coming off the wall.  For surfboards that have a bigger than standard thruster fin(s) installed, like longboard center fins or D-shaped keel fins.  Holds a fin installed up to 10" in length.
SUP - Stand Up Paddle Board | 6" Board Gap | 50 lb max:
The bigger version made for those larger SUP boards. 
Get the professional & minimalist look with this Acrylic Surfboard Wall Rack.  This rack not only keeps the focus on your actual surfboard as a work of art, but also gives a "floating" look with no visible parts of the rack being shown, as it's entirely made of clear components.  Often chosen by professionals, for use in high-end retail spaces or restaurants looking for a beach or surf aesthetic.   
These are 100% made in a US based facility.  The craftsmanship of these acrylic racks is so strong, it has been rated to hold boards up 50 lbs for the surfboard version, and up to 100lbs for the SUP!  With this level of strength and durability you will be at ease storing most of your quiver, from surfboards to even larger longboards & stand up paddle boards. 
This is a flat-facing rack, which can either showcase and display the (top) deck, or bottom of the surfboard.  This is particularly useful for when trying to fill negative space in a room, or wall gaps up in higher locations, such as over staircases, doorways, and other entryways.  This rack can also work as an everyday storage system for your surfboards, as it has a clear rubber padding, which helps keep the surfboard ding free, and water tight. 
All mounting hardware & instructions are included.  We do recommend putting these into studs, but is not necessary, if the drywall anchors are installed correctly.
Questions or concerns? Contact us anytime, and someone will get right with you!
how do I know what size to order. My board is a Hobie 9 ft long. its very light and does not have the fin screwed in Its a signed board

+ Show Answer

A typical 9'ft Hobie board would likely be a surfboard.   For this the standard 'Surfboard 4"' version would be suitable.  

However, if it is a Stand Up Paddleboard (typically these are thicker than 5 inches and would have a width of 25+")  then the SUP - 6" version would be recommended. 

If you're still unsure or would like a second opinion please email us a picture.  We'd be happy to check it out!: info@epicsurfracks.com

This rack comes as a pair correct? Not stated anywhere in the documentation.

+ Show Answer

Yes, that's correct this rack comes as a set. 

Hello! I'm an interior designer in Charleston, SC decorating a beach home for my client. We'd like to use the Clear Surfboard or SUP Wall Rack product for our project and are installing blocking behind the drywall currently. Can you tell me how far apart I should place these mounts for a 6' board?

+ Show Answer

Regarding spacing of where to align the racks with the board can vary depending on the shape and rocker of the actual surfboard.  With that being said a good rule of thumb is around ~1/3 in from each end point of the surfboard.  

 

The real priority here is mounting the surfboard rack directly to the studs in the wall as this will provide the most rigidity/stability.  Determining where the client wants the board located in the room in question, finding the respective studs for this location, and then making sure the surf racks are spaced out enough so that the board will not teeter would be a good order of operations.  

 

One thing to note: Most of the time we want the surfboard exactly level to the floor and not the racks themselves (often determined by the surfboard stringer, or wooden line in the middle of the board, on most, but not all surfboards).  So, with taking the surfboard shape and outline into consideration you may find that the racks themselves will not be level with the floor, as the surfboard shape will determine where the racks need to be installed in the vertical orientation. 

Laying the board and racks out on the floor prior to installation should help get an understanding of how to vertically align the racks on the wall. 

 

As far as blocking: I would refrain from mounting the racks directly to the blocking itself. Although, it may provide enough stability, the rack was not really designed for this, but rather to be mounted directly center to the vertical (load bearing) studs. 

How do you put the surfboard in the rack once it is mounted? Or does someone need to hold the board while the rack is being screwed to the wall ? The wall we want to mount our board to is a standard 8 foot ceiling so not something we could "drop" the board into....???

+ Show Answer

You'd want to mount the rack to the wall securely first, before trying to put the board in the rack.   
If you're trying to mount the board upwards and close to the ceiling and fear that there might not be enough extra head-room for the board to clear getting into the rack, then I'd suggest going with our Angled Down | Clear Acrylic version of this rack.  This rack should give more of an angle, allowing the surfboard, or longboard to get into tight upper spaces.
Pro Surfer
I've had a board shaped by Skip Fry of Gordon & Smith for me when I surfed for them in 1973. Now it's floating on the wall in my game room and looks great! Thank you very much!
Acrylic wall mount is super!
We have a large Grant Rohloff print of Greg Noll and wanted to showcase my husband's Lance Carson long board with it - perfecto!
Payment & Security
Your payment information is processed securely. We do not store credit card details nor have access to your credit card information.