Roll over image to zoom in
Click on image to zoom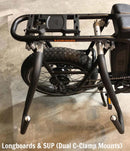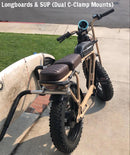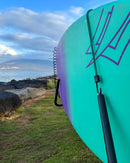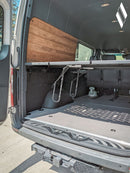 Description
Unsure on mount type?  Read below 😊
These high quality e-bike surf racks will safely transport Surfboards, Wakeboards, Longboards, or Stand Up Paddle boards.  The optional SUP arms can even be used to hold 2 surfboards at once. 
E-Bikes come in a variety of shapes, sizes, and geometries so fitting  the proper surf rack to yours is paramount to successful adventuring.  Our e-bike racks come in 3 separate mount variations to accommodate the various e-bikes on the market. 
Here is a simple guide in helping decide which of the 3 mount-options is best for you:
1.  Shortboards (Single Mount - Vertical Tubes):   
If you have a traditional single seat post, and just trying to carry a shortboard this is the rack for you!  The single mount point quickly and easily installs to one vertical tube (like a typical vertical seat-post found on most bicycles.)
2.  Longboards & SUP (U-Bolt & Frame Mount+):   
This rack is great for those that have e-bikes with thinner round or flat-plate luggage racks.  It's also the rack to pick if your bikes has frame mounts - screws placed by the bike manufacturer that bolt up directly to the frame, and are typically found on the front or rear of the frame, sometimes in sets of 4. These are often placed on e-bikes to allow a variety of accessories to be mounted.   
This rack has 2 separate mount-points that can be installed close together or mounted on the front and rear of the bike (mounting as spread out as possible to the front and rear of the bike is recommended for transporting multiple shortboards, or larger boards like longboards, guns, and SUP Stand Up Paddle boards.) 
Included mounting options: 
3 U-Bolt Sizes (3.5", 4.0", and 8.0" Lengths) for Front Tube/Frame Mounts
Single Tube Seat Post Mount
Pair of C-Clamps (for .25" Round or Flat Surface Luggage Racks)
3.  Longboards & SUP (Dual C-Clamp Mounts): 
This is the same rack as our popular Surfboard Moped Rack | Dual-Mount. The rack features dual c-clamps for mounting directly to parallel round tubes (like fitting to heavier duty luggage racks) or e-bikes that have a bike frame that splits into 2 parallel tubes (which confusingly enough are often intended to function as a luggage rack by the e-bike manufacturer.)
This rack has 2 separate mount-points that can be installed close together or mounted on the front and rear of the bike (mounting as spread out as possible to the front and rear of the bike is recommended for transporting multiple shortboards, or larger boards like longboards, guns, and SUP Stand Up Paddle boards.) 
Included mounting options (2 pairs of each): 
Small C-Clamp: 0.25" - 0.5" (6mm-13mm)
Medium C-Clamp: 0.5" - 0.75" (13mm-19mm)
Large C-Clamp: 0.75" - 1.0" (19mm-26mm)
4. SUP  /  2x Shortboard Arms: 
The racks above come standard with a pair of hooks that have a 4" wide bar at the bottom.  Adding the SUP arms will provide an additional arm set (one that has a 6" gap at the base, meant for holding larger SUP boards or multiple shortboards (using a tie-down or bungee is recommended.) Inflatable SUP boards though snug have been reported to work fine with the SUP arms. 
Confused yet?  Yea we get it! It can sometimes be a pain finding the proper mounting solution for e-bikes.  Email us some photos of your bike for help.
If not, read on....
Did you ever head down to the beach with your board only to realize how difficult it is to find parking? That problem can easily be solved with this innovative surfboard rack for e-bikes! With a multi-point install & quick-release system, it can secure all sizes of boards. You'll easily get in and out of your desired surf zone, whether it's to go for a quick surf-check or actually go out for a paddle.  Saving yourself time will likely increase your wave count. 
The handy & stable quick-release system for removing the arms is different from all other's you'll find on the market is that the quick-release attaches at the base of the mount.  This avoids the need to have any excess pipes that typically "hang out" on other racks, getting in the way when not in use.  Changing the quick release is with a simple push-pin and takes mere seconds to take the arms on and off.  
This mobile system is compatible with a variety of e-bikes including Super 73. This rack mounts via versatile clamps that can attach to a variety of areas on the bike, making install a breeze as mounting options can vary widely from bike to bike.   
The surfboard hooks are also covered in a high-quality rubber which help to prevent dings, and includes holes in-case you want to attach a bungie (sold separately.) When installed properly the bungie or tie-down helps keep the board tied down when driving down winding or rough roads. 
Saving time and gas while riding eco-friendly is in style!  Having to drive around aimlessly trying to find parking when you get to the local beach break or reef is not. Get rockstar parking every time! You'll be stoked on this rack, just as much as we are. Once you have one of these attached to your ride surf checks and finding parking at the beach will be so easy!
*It is recommended to mount the arms further apart (closer to the front and back of the vehicle) if you're planning on using boards over 10' for added stability.
Would the longboard rack fit easily on a RadRover 6 plus bike? If yes, anything you would recommend to secure it?

+ Show Answer

After taking a brief look at that model I think you will be good to go with the included mounting hardware that comes with the longboard version.  

The longboard version actually includes 3 separate mount options to choose from, which helps in a variety of bike geometries and mount points.

Will this rack work on my Rad Rover Step-thru Ebike?

+ Show Answer

There appears to be a variety of RadRover Step-Thru bikes that are on the market.  For most (if not all that I can see) the longboard version of this surf rack will have the requisite hardware for safely mounting to these high quality e-bikes.  

There is 3 included mount options with this surf rack, to maximize compatibility.

Will this fit a Rad Expand 5 (Rad Power Bike)?

+ Show Answer

Both the shorboard (single-mount) as well as the longboard (dual-mount) versions of these racks should mount up seamlessly to the RadExpand 5 electric bike, made by Rad Power Bikes. 

Also, if you were planning on just mounting to the rear of the bike (if the rear luggage rack is attached) the Surfboard Moped Rack | Dual-Mount | Holds Longboards would also work.

Hi, was thinking about purchasing. Will this attach to a RadMini Electric Fat Bike Version 4 and be able to hold boards up to 9'6? Thanks

+ Show Answer

For this board & bike combination the Longboard version of this surfboard rack is recommended.  It should seamlessly bolt up depending on your particular setup of the RadMini 4.  However, it's recommended that you use the luggage rack offered by Rad Power Bikes.  It looks to be called the RadMini Rear Rack, but check with a Rad Power Bikes representative to confirm fitting for your particular bike. 

The rear luggage rack will allow you to spread the surf rack out as much as possible across the bike (from front to rear.) This provides the greatest level of stability for that 9+ Foot long board.

Hi, what surfboard rack, if any, would fit on an Euybike S4 Long Range Moped-Style Electric Bike, for a 5'10" shortboard

+ Show Answer

The Dual-C Clamp (Longboard) Version should work seamlessly, mounted together under the parallel tubes found beneath that bike's seat: this model can be seen here.

Bonjour wich one for a longboard for ma super73 RX ? Thanks

+ Show Answer

The Dual-C Clamp mount should be able to hold a longboard, by mounting directly to the parallel tubes found on the subframe of that bike, at both the front and rear of the bike.

What is the best long board rack for a Dirodi Rover Ebike?

+ Show Answer

Some of our customers have found success using the Dual-C clamp mount for that e bike model. 

Try to spread the mount points as much as possible, to the front and rear of the bike.  This will help to maximize the stability for that longboard.

Will this rack fit the Lectric Lite E-bike?

+ Show Answer

The shortboard version will likely work if it's installed correctly.

I just bought a Pedal Electric Core 2.0. I have a luggage rack on the rear. Just curious if you do in fact have any rack recs for this bike in particular? I get the bike in later this week, and would want it to carry my 5'10" as well as my 9'6".

+ Show Answer

 

The surf rack mount kit will have everything included to replicate that configuration shown in the pic, and will also safely carry both of those boards you are looking to transport. 

What setup do I need for a longboard and a KBO breeze bike? I have one srep thru bike and one stepover and want a rack for each.

+ Show Answer

For both the Step-Thru and Step-Over versions of the KBO Breeze electric bike transporting a longboard the U-Bolt & Frame Mount+ version of our E-Bike rack would be my go to: Longboards & SUP (U-Bolt & Frame Mount+)

Which mount do I need for a SUP and a 2018 RadCity Step-Through?

+ Show Answer

what longboard racks will work on a Himiway Cruiser step through?

+ Show Answer

If you're just trying to carry Shortboards or a Fish to the beach then the Shortboard Mount should work out for you.  It simply bolts up to the seat. 

If you're trying to carry bigger boards: fun shapes, longboards, or an SUP then go with the Longboard (U-Bolt/Frame Mount) for that bike.

Will this work for a electric bike company model R?

+ Show Answer

Yes, it will.  However, which mount option you need is based on what boards you plan on transporting & whether you have front and/or rear luggage racks installed.  We have a simple guide to helping determine which mount option is best for you just under the "Description" area 🙂

Hey there, I would love to purchase a surf rack for my Pedal Electric Core E bike. I'm wondering which rack will fit my bike? Thanks!

+ Show Answer

To be honest that appears to be a tricky bike to mount up to.  I'd contact a professional bike mechanic, as a custom solution for mount-points might be needed.

For the Radrunner 2 for carrying a longboard you recommend the mount that attaches to the front frame post and rear of the bike. Does the front frame mount attach to frame with the two screws that the bike comes with for a front cargo basket? The only disadvantage using this method is I couldn't get a rear or front basket on the bike. I saw one picture with two mounts under the back rack. But I get it that there would be more stability with one on the front and one on the back.

+ Show Answer

You'd want the U-Bolt / Frame Mount version If you do not have the front luggage rack installed, as it will be utilizing those mount points up front.  For the rear it will be at the seat post. As for the existing screws those will be replaced with the ones that this surf rack comes with. 

If you plan on getting a front basket/luggage rack then the Dual-C clamp version should be your go-to, which you can bolt directly up to (just double check if the luggage rack can hold the weight of your surfboard + any additional resistance such as while stopping suddently, wind, etc.)



As an aside, there is additional diagrams under the "description" area just below the add to cart button. This has more info related to each mount type, and making sure you find the perfect one for your specific bike and needs 🤙🏼

With these racks can you peddle the bike or are you forced to use the throttle on the e-bike? It was hard to tell if there was enough clearance between the board and the peddles.

+ Show Answer

All these racks allow for peddling as well, so you should be good to go al natural, or go-go gadget 😉🤙🏽

Which rack system would be best for a Radrunner 2 e-bike for a short and long board?

+ Show Answer

Either mount longboard mount system would work but for the most stability I'd go with the U-Bolt and Frame mount:

I have the dirodi plus bike I want to purchase the correct surfboard rack for me and my sons short surf boards Mine is 6,1 His is 5,2 Which rack is best for me to order to suit two short boards .. ?? Much appreciated..

+ Show Answer

I have a Dirodi Rover, what set up would be best to use to carry mostly a longboard, occasionally a SUP.

+ Show Answer

If you have the Step-Over model of the DiroDi Rover Retro bike then the U-bolt & Frame Mount version  should work out well for both a single longboard as well as an SUP.  

If you have the Step-Through model of this bike, then you'll need to attach a front luggage rack, and go with the Dual-C Clamp version . 

The key is spreading the rack out as much across the front & rear of the bike.  This provides the greatest stability....and possibly even the greatest levels of stoke 😜 🤙🏽

I'm unsure if I should get the U-BOLT & FRAME MOUNT+ or DUAL C-CLAMP MOUNTS. I have a Trek Electra Vale! Go model from about 2 years ago. Pictures below. What would recommend for 6'5 board and an 8' foam (not at the same time)?

+ Show Answer

After reviewing that bike's specs, taking those boards into consideration:   I'm thinking you could technically go with either of the 3-mount types we offer.  

 

The Shortboard (Single Mount) would be the easiest/cleanest install, and should work for an 8' foamie.  I have this same rack, and sometimes transport an 8' Wavestorm, and it's just stable enough. 

 

Otherwise, you could go with the Dual-C on that back luggage "rack", or go with the U-bolt Frame mount, mounting up to the front head tube, and seat post. The U-bolt version will provide the greatest stability as it will spread the mount points across the bike. 

 

Personally, I think the Dual-C clamp version spread out across the rear luggage would look the cleanest on that bike, and will provide a bit more stability than the Single mount I initially mentioned, but you should be good with whichever version you select. 

Can you recommend what Short Board surf rack we should purchase for a RadExpand 5 Electric Folding Bike?

+ Show Answer

Which rack would work on a trek powerfly e-mountain bike?

+ Show Answer

Is this surf rack compatible with The Super73 Z Miami? If so, which of the 3 options should I choose?

+ Show Answer

There are two surf rack mount options that are compatible with the Super 73 Z Miami.  Deciding which is best for your needs will come down to how you want to mount the surf rack up to the bike.  

Option 1: Longboards & SUP (U-Bolt & Frame Mount+)

Option 2: Longboards & SUP (Dual C-Clamp Mounts)

Further information on how these can mount up to your bike (with pictures as examples) check under the "Description" area on either of those links.   There should even be some pictures of other Super 73 e-bikes in that section as well,  to help give you a better idea on which option to go with.  Please let us know if you have any further questions.

HI, there! I just bought Radwagon 4 Cargo Bike. I want to purchase this rack to haul a longboard (9'6" fiberglass). Which one should I get? Thanks!

+ Show Answer

For a longboard (or even SUP) the best way to mount up to that Radwagon e-bike would be with the Longboards & SUP (U-Bolt & Frame Mount+) version.  This will allow you to keep the rear cargo rack free for other utility, and also provide greater stability for that longer board, by spacing the mount-points more to the front and rear of the bike. 

If you have a basket mounted up front, or just want to mount the surf rack directly to that rear cargo area, then the Longboards & SUP (Dual C-Clamp Mounts) is going to be the ticket to glory; Surf quality permitting ;-)

I have the Hurley Mini Swell, will this work for that ?

+ Show Answer

Hi, I have a Hurley mini swell Electric bike I am trying to find a surfboard rack for the bike. Ie. so that I can use my bike to transport my surfboard to the beach. I wanted to see whether you have a surfboard rack that would fit this bike? Or if you know where I could find one? Any help appreciated Thanks Sam

+ Show Answer

For that Hurley e-bike model I would go with our E-Bike Surfboard Rack | Longboards & SUP (Dual C-Clamp Mounts)
This rack will accommodate most surfboards if setup under the seat, and will be the most stable/secure solution.

If you were planning on going with larger longboards (10'+) or even stand up paddleboards I suggest spreading the mount points to the front and rear of the bike as much as possible.  In this case it looks like your only option here would be the (U-Bolt & Frame Mount+) version.

Will the sup rack and other mount work on a Lectric XP 3.0?

+ Show Answer

The Single-Mount version should work seamlessly with the Lectric XP 3.0, bolted  onto the seatpost.  However, this rack is recommended for surfboards, not SUP. 

The Dual-Mount (both versions: C-Clamp & U-Bolt/Frame) have adequate places to mount on the Lectric XP 3.0, and should theoretically work with both the surfboard arms that come standard, and optional SUP arms, depending how you mount on the bike.  

The issue you may run into with this model bike is the bike's low center of gravity, and the size of the intended board.  More specific, this low center of gravity coupled with SUP boards will result in the bottom of the board to be very close to the ground.  There might not be a lot of room for turning/leaning while riding, and might even be unsafe, if not mounted correctly.  This really comes down to the size/shape of the board intended to transport. 

One suggestion if you plan to mount  stand up paddleboards, or any larger board is to lay the board next to the bike and measure to where your intended mount points would be, and see how much ground clearance you would have when mounted. 

The surf racks are pretty customizable, but the bike still might be too low to the ground.  In this case I recommend getting the optional luggage racks that Lectric makes, which should provide a higher mount-point off the ground, and hopefully give adequate clearance.

Hi, I have Rad Power Bikes RadRunner Plus e-bike. I am looking for a surfboard rack for board between 5'5" to 8' Can you please advise which rack would be best suited? Thanks

+ Show Answer

Will the longboard rack fit on an Aventon Aventure eBike?

+ Show Answer

Honestly, I don't think it will seamlessly mount up the Longboard version without either an additional luggage rack or some slight modification.   

However, the Shorboard version should work with no issues.
Five Stars!
Ok, they put the racks in!!! We made a story and sent some pics to the dm instagram.
Thank you, Peter!! You are the best!
Well made
Received the racks...these are well made and seem like pretty high quality!
Tweaked
They are usable, but it's very hard to put the racks on and off because one of the racks is tweaked. I am also surprised that it did not come with bungee cord to put in the holes that are made to hook the board to the bike! I spent a lot and feel ripped off unfortunately.
Payment & Security
Your payment information is processed securely. We do not store credit card details nor have access to your credit card information.